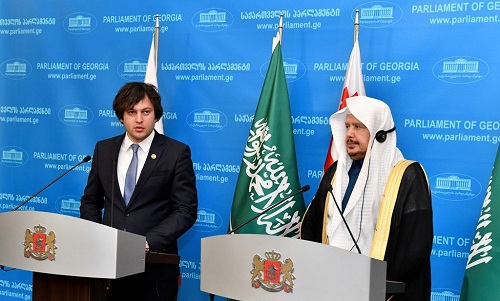 Irakli Kobakhidze and Abdullah ibn Muhammad Al ash-Sheikh, November 1, 2017. Photo: Parliament of Georgia
Abdullah ibn Muhammad Al ash-Sheikh, Chairman of the Consultative Assembly (Majlis ash-Shura) of the Kingdom of Saudi Arabia, paid a two-day official visit to Georgia and met the country's leaders, including his Georgian counterpart, Irakli Kobakhidze.

In a joint press statement on November 1, Parliamentary Chairman Kobakhidze said that the two countries lie in regions "full of strategic challenges," and that both countries attach "great importance to maintaining and strengthening peace and international security."

"Deepening of trade and economic cooperation with Saudi Arabia is a priority for Georgia. Enhancing the relations and elevating it to a new level with a friendly and strategically important country is no less important as well," Kobakhidze noted, adding that the two countries have "a lot greater potential for deepening the [bilateral] cooperation."

The Georgian Parliament reported that Kobakhidze and Al ash-Sheikh also underlined the role of the countries' legislatures in strengthening the bilateral relations. According to the Georgian Parliament, the two chairmen spoke on the security situation as well, with Al ash-Sheikh conveying the country's support of Georgia's sovereignty and territorial integrity.

During his visit to Tbilisi, Abdullah ibn Muhammad Al ash-Sheikh met with President Giorgi Margvelashvili and Prime Minister Giorgi Kvirikashvili as well, with the two sides discussing bilateral economic relations and the security environment in Georgia and the Gulf region.

On November 2, the Chairman will also meet Mikheil Janelidze, the Foreign Minister of Georgia.