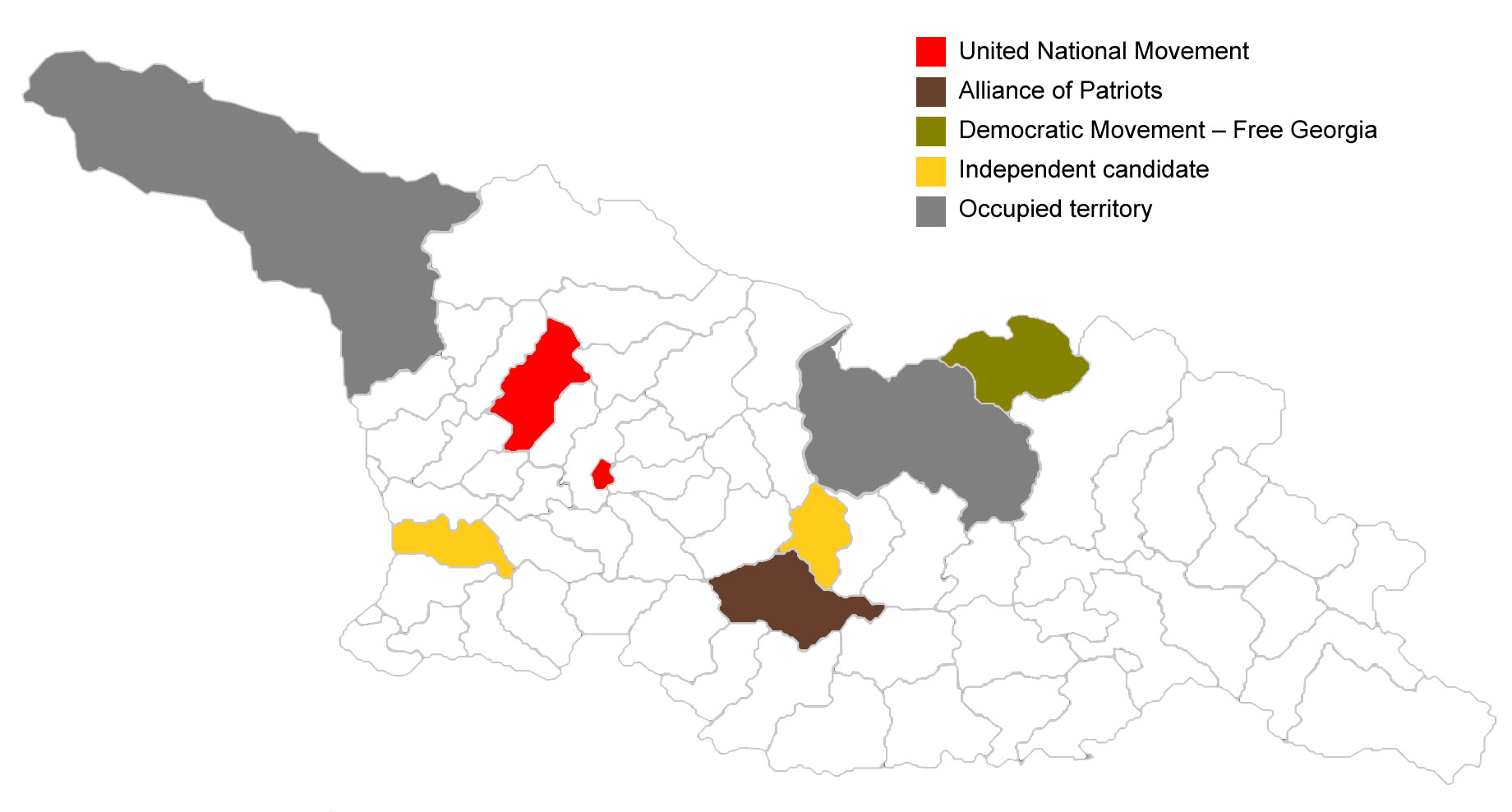 Second Round Runoffs.
Second round runoffs in six municipalities, among them Kutaisi, Kazbegi, Khashuri, Borjomi, Ozurgeti and Martvili, will be held on November 12.
According to the Central Election Commission, a total of 328 304 voters are eligible to participate in the runoff polls.

The mayoral candidates of the ruling Georgian Dream – Democratic Georgia party are leading in all the six municipalities, according to the results of the first round.

Tight contest is expected in Borjomi, where GDDG's mayoral candidate, Levan Lipartia garnered 40.35% of votes in the first round, while Zaza Chachanidze of the Alliance of Patriots received 40.15% of votes.
The difference was narrow in Ozurgeti as well, where the ruling party candidate, Beglar Sioridze, garnered 43.35% of votes, and independent candidate, Konstantine Sharashenidze, received 41.86% of votes.

GDDG's mayoral candidate, Giorgi Guraspashvili is leading the race in Khashuri Municipality with 42.24% of votes, followed by independent candidate, Ramaz Nozadze, with 18.48% of votes.

Sandro Kamarauli, a mayoral candidate of the Democratic Movement – Free Georgia, who garnered 26.85% of votes, will compete in Kazbegi Municipality with the ruling party candidate, Alexander Zagashvili, who is leading with 44.62% of votes.

In Kutaisi and Martvili, the ruling party's candidates - Giorgi Chigvaria (48.66%) and Alexander Grigalava (49.76%) - will be challenged by candidates from the United National Movement, Grigol Vashadze (27.04%) and Mamuka Danelia (35.81%), respectively. Polls in these two municipalities will be formal, however, as UNM decided to withdraw from runoffs, citing "mass rigging, blackmail and use of administrative resources."

Also on November 12, newly elected mayors will assume offices in 58 municipalities. The inaugural session of the Tbilisi City Council will be held two days later, while the rest of the municipality councils will be convened later in November.