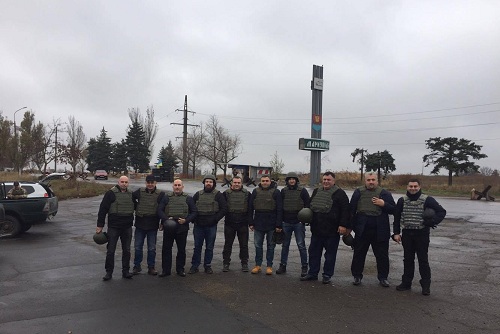 Georgian parliamentary delegation in Mariupol, Donetsk Oblast, November 8, 2017. Photo: Parliament of Georgia
A delegation of the Parliamentary Group of Friends of Ukraine is on a four-day visit to Ukraine, where the MPs have held meetings with their Ukrainian counterparts, including Andriy Parubiy, Chairman of the Verkhovna Rada.

The five-member delegation, led by MP Giorgi Mosidze of the ruling Georgian Dream – Democratic Georgia, traveled to the Anti-Terrorist Operation Zone on November 8, visiting Marinka, Volnovakha, Novotroitske, Mariupol and Shyrokyne in Donetsk Oblast of Ukraine.

There, the delegation members met with Ukrainian soldiers deployed in the area, as well as the representatives of local government. The parliamentarians also paid tribute to the memory of soldiers who died during the May 2014 attack in Volnovakha and the twelve civilians killed in 2015 in passenger bus shelling near the town.

"We intentionally launched our visit by traveling to the Anti-Terrorist Operation Zone to better understand how Ukraine lives today," MP Giorgi Mosidze stated, adding that the Georgian delegation's visit was "to express support for our Ukrainian brothers in their struggle for sovereignty and territorial integrity."

"Georgia has been engaged in a similar struggle for already three decades; so, by joining our efforts and coordinating our actions on the international arena, we will manage to achieve our strategic goals more effectively," Mosidze added.

MP Sergi Kapanadze of the opposition European Georgia party, who serves as a Deputy Chairman of the Parliament, said the legislature's support for Ukraine should go beyond mere verbal statements. "Our visit to the ATO zone was to demonstrate exactly that: for me, as a representative of the European Georgia and as a parliamentarian, it was of principal importance to express support for the Ukrainian people and the Ukrainian state by travelling to the occupation line."

"This is our common struggle and it is exactly the Donetsk Oblast, where we can see most vividly that the occupation of Abkhazia and Tskhinvali, the occupation of Donbas and Crimea, follow the same pattern, and is done by one evil empire," Kapanadze also noted.
According to the Parliament of Georgia, the MPs will conclude their visit on November 11, and before that, will hold a number of other meetings, including with Ivanna Klympush-Tsintsadze, Deputy Prime Minister of Ukraine for European and Euro-Atlantic Integration.