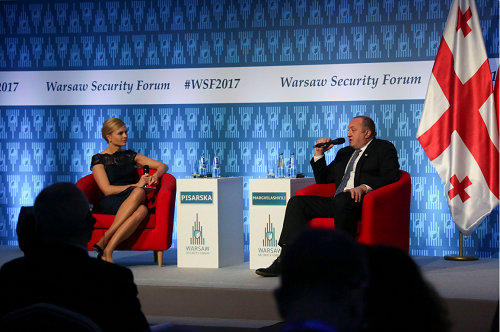 President Giorgi Margvelashvili addressing the Warsaw Security Forum, November 9, 2017. Photo: President of Georgia
Addressing the Warsaw Security Forum on November 9, President Giorgi Margvelashvili called on the western nations to stand up to the Russian Federation and warned that the failure to confront Moscow's aggressive actions would cause "serious problems" far beyond its neighborhood.

President Margvelashvili began his remarks by drawing parallels between Russia's hybrid warfare in Ukraine since 2014 and its actions against Georgia in the early 1990s, saying that "Russia's direct engagement was a factor to alienate and occupy the two regions of Georgia."

"Very often I hear that it happened in 2008 – no, the occupation of these two regions by Russia happened in the beginning of 1990s," Margvelashvili noted, adding that the reason for the Russian aggression was that "Georgia decided to be free and independent, to have its own choice, and it was punished through a hybrid war."

Margvelashvili also noted that before the direct Russian army incursion in Crimea in 2014, there had been a precedent of "a nuclear superpower entering and changing the borders in a neighboring country," carried out against Georgia in 2008.

The President added that while "nobody applauded" Russia's aggression against Georgia in 2008, the reaction of the international community was not enough to prevent further aggressive Russian moves, such as in Ukraine.
Margvelashvili also expressed his belief that if lack of strong enough reaction continued, "this is going to cause serious problems, not only for Georgia, Ukraine, Moldova and Russia's other neighbors, but this will never stop there," adding that it was "very visible today, when they are talking about the Russian interests in Europe, and Russian engagement in other countries, which believe that they are far away from Russia." The Georgian leader stressed that "the globalized world and hybrid, as well as cyber, as well as propaganda [warfare], work now without borders."

The President called on Georgia's allies and friends "to acknowledge Russia, understand Russia, and be sincere to Russia, and be faithful to your goals and principles which are declared." He then added that "bringing rational response to violence and non-acceptance of violence must be much firmer, and it will be good for any party engaged."