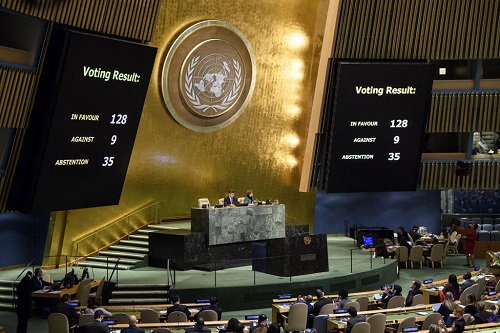 Panels in the General Assembly Hall showing the final count for the resolution on the status of Jerusalem, during the resumed 10th Emergency Special Session on Illegal Israeli actions in Occupied East Jerusalem and the rest of the Occupied Palestinian Territory. Photo: UN/Manuel Elias
Georgia decided not to attend the December 21 vote at the Emergency Special Session of the United Nations General Assembly, which voted on the draft resolution condemning the move of the United States embassy in Israel to Jerusalem.

The resolution was adopted with 128 votes in favor to nine against, with 35 abstentions. 21 nations, Georgia among them, chose not to take part in the vote.

Shortly after the General Assembly vote, Nikki Haley, U.S. ambassador to the United Nations, thanked the countries that did not support the resolution, including those that voted against, abstained and did not attend the vote.

Georgian Foreign Minister Mikheil Janelidze commented on the matter few hours before the vote, saying the country would make its final decision on the basis of consultations with its partners. "This is a very sensitive matter," stressed Janelidze.

Georgia recognized the statehood of Palestine in 1992, and voted in support of the UNGA resolution upgrading Palestine to non-member observer state status in the United Nations in 2012. The country also supports the peaceful resolution of the Israeli-Palestinian issue on the basis of a two-state solution.