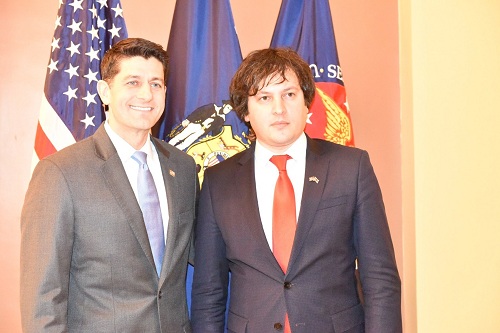 House Speaker Paul Ryan and Parliament Chairman Irakli Kobakhidze, February 7, 2018. Photo: parliament.ge
Georgian Parliament Chairman Irakli Kobakhidze is on his first official visit to Washington D.C., in a bid to build contacts with U.S. legislators.

The visit, launched on February 5 and scheduled to end on February 10, will help "strengthen the very high dynamics" of U.S.-Georgian relations in 2018, according to Chairman Kobakhidze.

On February 7, the Parliament Chairman met with Paul Ryan (Rep.), Speaker of the U.S. House of Representatives, with Kobakhidze thanking his counterpart for the United States' support of Georgia.

The Georgian Parliament also reported that Speaker Ryan invited Irakli Kobakhidze to the National Prayer Breakfast, an annual event gathering a large number of American and foreign dignitaries, including the sitting U.S. President.

As part of the visit, Kobakhidze held a meeting with the co-chairs of the House Georgia Caucus - Congressman Ted Poe (Rep.) and Congressman Gerry Connolly (Dem.).
The Georgian Parliament Chairman was also received by U.S. legislators Senator Roger Wicker (Rep.), Congressman Steve Scalise (Rep.), and Congressman Harold Rogers (Rep.).