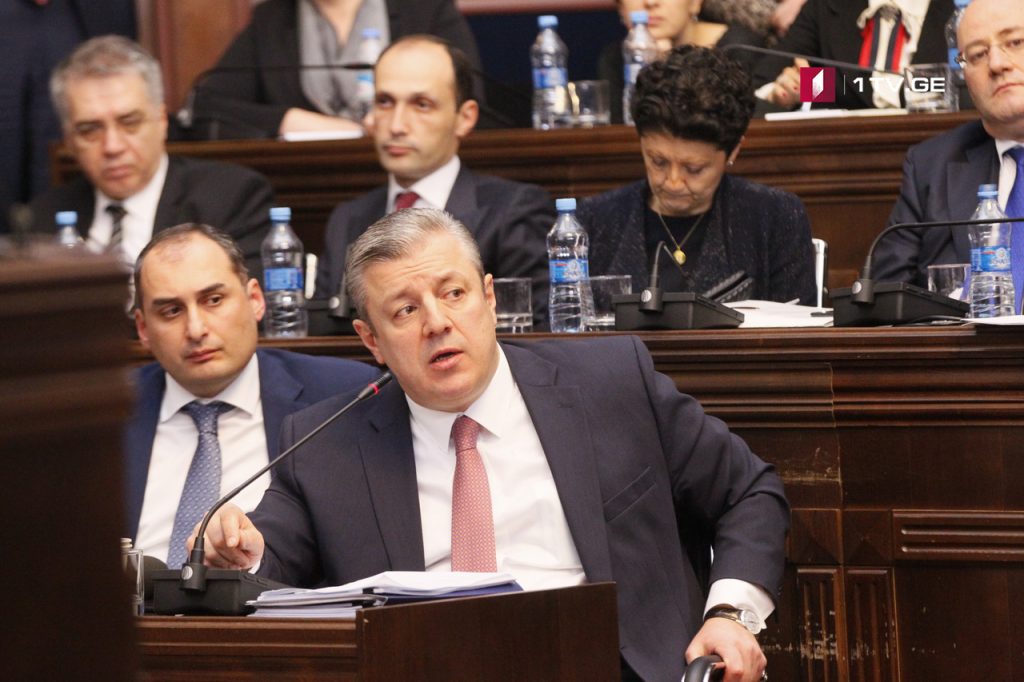 Giorgi Kvirikashvili at confirmation hearings in the Parliament, December 20, 2017. Photo: 1tv.ge
Opinion of international relations analyst David Batashvili.

Georgia's present diplomacy regarding the Russian aggression is, overall, a correct and pragmatic one. Georgian Foreign Ministry openly states that we have a conflict between two nations – Georgia and Russia – with the latter occupying two regions of the former. Russia's political proxies in Tskhinvali and Sokhumi are considered by the Georgian diplomats to be occupation regimes.

Latest statements by some representatives of the Georgian government indicate that this correct approach might soon be undermined under the slogan of "direct dialogue with Tskhinvali and Sokhumi." If that happens, there will be a real threat of Georgia allowing disintegration of its own positions in the matters of Russian aggression, occupation, territorial integrity and sovereignty. It would be a mistake of historic scale, with very detrimental consequences for Georgia's long-term interests and national security.

The Threat

During a visit to the Georgian Parliament on December 20, 2017, in a meeting with the members of a pro-Russian and xenophobic "Alliance of Patriots" party, Prime Minister Giorgi Kvirikashvili stated his purpose to launch a "direct dialogue with the conflict regions." Kvirikashvili said that the diplomatic approach remaining from the previous government represented "shackles," an unwanted inheritance and "an established system of stereotypes, views and approaches, even the slightest change of which is almost called treason by this so called opposition [the former ruling party members]."

Meanwhile, in an interview for the Russian Nezavisimaya Gazeta newspaper, published on January 15, 2018, Georgian Prime Minister's special representative Zurab Abashidze said that in his opinion "Moscow can actually assist a direct Georgian-Abkhaz and Georgian-Ossetian dialogue."

Georgia having "a direct dialogue" with the political proxy regimes in Sokhumi and Tskhinvali would justify Russia's official position, as well as its propaganda, that the existing conflict is not between Georgia and Russia, but between Georgia and its "former regions." According to this narrative, Russia is not a party of the conflict, but merely an external player trying to achieve order and peace in its neighborhood.

This is precisely the narrative that Russia routinely seeks to establish during its aggressive actions beyond its borders. Today, Moscow continues efforts to do so, stubbornly and consistently, in the cases of both Georgia and Ukraine, because it needs a triumph of such narrative in order to firmly and permanently consolidate the gains of its aggression.

Tbilisi's "direct dialogue" with the proxy regimes in Sokhumi and Tskhinvali would help them in gaining a de facto status of international players. This is what these regimes, with Russia's support, are now actively trying to achieve. Their representatives use every opportunity to go and present themselves abroad, taking part in meetings and events of any level they can. The point here is the same as in the case of Russia's efforts to avoid being considered a party of the conflict in the eyes of international community – permanent consolidation of the territorial results of Russian aggression and deprivation of Georgia of any future chances to restore its sovereignty.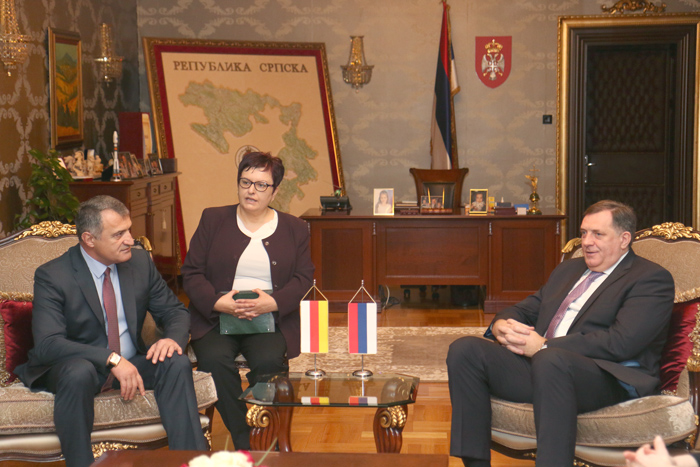 Anatoly Bibilov and Milorad Dodik, January 10, 2018. Photo: www.predsjednikrs.net

If Tbilisi were to hold a formal dialogue with the regimes that now exist in Sokhumi in Tskhinvali, it would send a message that instead of being Russian proxies they are legitimate players. As a result, Georgia would impair its own position regarding the Russian occupation. By holding a formal dialogue with these regimes, Georgia would tell the observers that the state of affairs in its two regions is not Russian occupation but two independently acting entities that talk with the Georgian government as parties to the conflict, while the fact that Russia has thousands of troops, with heavy weaponry and growing military infrastructure, in these two regions is merely a consequence of the Russian-Abkhaz and Russian-Ossetian friendship and alliance.

Russian occupation and Tbilisi's conflict with two breakaway regions are two fundamentally different cases. Occupation has only one legitimate finale: liberation of territories and restoration of sovereignty of the occupied nation. On the other hand, how exactly to solve a conflict between the capital and regions might be considered by some to be an open question.

What should be done and what shouldn't

Georgia must actively work to be as close as possible to the people living in the occupied territories, irrespective of their ethnicity. Free medical service that Georgia provides for them is a good policy. Georgia must help them get education in the part of its territory that is free of occupation, and develop other forms of communication. Russia's purpose is to isolate these people from the rest of Georgia. Our task is to break through this isolation.

This policy, directed at the people, must under no circumstances be confused with legitimation of the political proxy regimes in Sokhumi and Tskhinvali. These regimes are Russia's instruments in its ongoing activities directed against Georgia's sovereignty. Establishing official relations with them, under the pretext of a dialogue or any other, would be a very damaging step for the interests of Georgia on the part of its own government.

Strategic reality

The bitter truth is that as long as Russia is both capable and willing to continue the occupation, Georgia cannot achieve any significant progress in the occupied regions. This is the actual case, whether we like it or not. We can, however, further worsen our own position if Georgian authorities make a grave mistake, such as establishing a direct formal relationship with the proxy regimes.

Restoration of Georgia's territorial integrity will be possible only after Russia loses the capability and/or the will to continue the occupation. The fact that we have no idea when exactly that might happen does not constitute a valid counterargument, because no action at all that we can take today would change this reality. "Occupation" is not just a term – these two regions are actually controlled by the Russian military force, which is going to remain there regardless of what diplomatic tactic Tbilisi employs and with whom it stages a dialogue.

The only correct and useful political strategy that Georgia can have in these circumstances is maintaining its diplomatic, legal and moral positions regarding the occupied regions, not allowing these positions to disintegrate, until the time when a changed foreign environment offers it an opportunity to restore its sovereignty. Self-inflicted undermining of these positions under the slogan of "direct dialogue" with Moscow's proxies would constitute an inexcusable blunder.