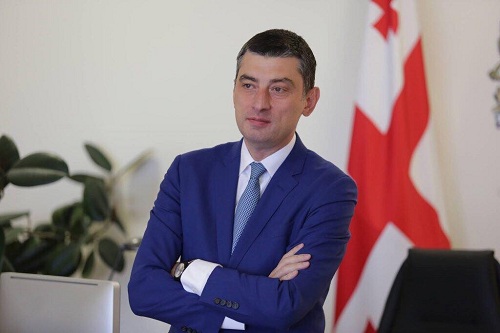 Giorgi Gakharia, the Minister of Interior. Photo: MIA

Giorgi Gakharia was appointed the Minister of Interior and Deputy Prime Minister in November 2017, switching unusually from the portfolio of the Minister of Economy.
One of the crucial positions in the cabinet, the Interior portfolio implies the highest level of trust from the country's leadership. Gakharia, trained in political science and business administration, was supposed to bring some managerial acumen, rather than the police muscle, to the position. Since his appointment, his office has been tested by high-profile teenage murder in a Tbilisi school, as well as a multi-hour shootout with an alleged high profile terrorist in the capital.
Régis Genté spoke with Minister Gakharia on behalf of Civil.ge to discuss his plans – and his ambitions.
You are the rising star of Georgian politics. You were not known by the public till 15 months ago, when you became the Minister of Economy and Sustainable Development in November 2016, and then a year later the Minister of Internal Affairs, Vice-Prime Minister. Who do we speak to? A politician?
I feel myself being a technical person in this position, as a manager. We have huge challenges in this ministry because we are in a region where security and safety is the most important priority for our citizens, above prosperity, which comes in second. Keeping security at the current level is the most important target in this challenging region, but it is also a precondition for developing our economy. And I saw that in my previous position, as the minister in charge of the economic development. Let's take tourism as an example. This is the driver of our economic growth. How can we develop tourism without excellent security? And to achieve that, I feel that I have to act as a technical person, as well as politically neutral minister. That is crucial.
Why do you focus so much on the security? The country seems relatively safe.
Yes, the country is safe, but the region is very challenging. And it is becoming more and more challenging, in these last years.
The rumor in town is that you used to work for Mr. Ivanishvili while in Moscow. Is that true?
Not true. I met him for the first time in 2013 when I was appointed as "business ombudsman." Mr. Ivanishvili was the Prime Minister [then] and has appointed me, after an ordinary recruitment procedure. It was a big responsibility for me to take this position, at that time. I was working in Germany, for Lufthansa, after my studies in Russia and decided to come back to Georgia. I even had a slight difficulty with the Georgian language and had to take some training to improve my Georgian. With Mr. Ivanishvili, I had just a working relation when I served as the "business ombudsman." And then I never met him again.
You have been very active in the two months you have been in charge of the Interior Ministry. You started by announcing a set of reforms: criminal police, public safety officer, patrol police and border police. What is the goal?
The main idea is to increase the effectiveness of the ministry. If you take a look at the main departments of the ministry - patrol, criminal and border police - you will see that all three need a real reform.
Let's take the patrol police, which was the first [reform] that Saakashvili's team implemented. Here, you will see that the front office is pretty good. We will continue what was done in 2004 and later. But, in the back, we have huge problems. The procedures in use are absolutely ineffective, there is no digitalization, etc. In coming two months, until May, we will have a special space designed to serve our citizens better.
In the reforms that we propose, for all our departments, not just the patrol police, there are two layers. First, [there are] structural reforms, and second, reforms in other areas: such as the human resources procedures or improving the investigation procedures.
Let's take the example of the criminal police. We need to structure around concrete specializations in order to improve the effectiveness and quality of investigations. This is a crucial issue.
There is also a necessity to work on the development of human resources, which supposes concentrating our efforts on the police academy, so that we can increase the quality of our staff.
When it comes to the border police, I want to stress how important it is in the regional context. Border police requires huge amount of human resources. For [getting] that, we really need the support of our strategic partners - of the United States and of Europe. The southern part of our border is crucially important and very challenging, with the situation in the Middle East [being as it is].
You have not mentioned the creation of the position of a "Police Chief." Why? In Europe for example, the Ministers of Internal Affairs are not in charge of the police, especially to depoliticize the daily management of the police and to let the minister be focused on policymaking.
We have… One of my five deputies is covering the three main directions I was speaking about: patrol, criminal and border police. And we have the Head of Patrol Police, Teimuraz Kupatadze, the Head of Border Bolice, Temur Kekelidze, who was appointed few days ago, and the Head of the Central Criminal Police, Tornike Mushkudiani. All are police officers. I have a daily morning meeting, at 9.00 or 9.30, with my deputies and with all important department heads. My schedule is - let's say - 60% dedicated to daily management and 40% to policymaking. It should change and become 50/50.
To speak to you as a policymaker for the moment - you were on record during the last two months advocating against the decriminalization of drug use. What is your exact position on that?
Our position in the government is [this]: let's discuss decriminalization when we will have a system of rehabilitation [in place]. We do not have that at all at this moment. Of course, we agree that the period for which people can be jailed has to be reduced, but some are talking about complete decriminalization now.
Now, I have one question: what is our capacity for rehabilitation of drug users? And, what do we need to have a full[ly functional] rehabilitation system? The Ministry of Healthcare says it can only afford to help 10 or 15 percent of drug users. So our only concern is to have enough capacity to rehabilitate people before we decriminalize the use of drugs.
Our vision is that drug use should not lead to criminal cases, but starting this process without having a strong rehabilitation system is very risky. Now, the stakeholders are in a real discussion, evaluating what means we need to build a real and an efficient rehabilitation system. Maybe it will take a year to create this system, maybe more. All depends on what we have to build for that.
We should not forget the strategic objective we have: having as few new drug users as possible and rehabilitating those who are already using. This is our only concern. Nothing else.
You also recently proposed to strengthen the law on the so-called "thieves-in-law." Why did you decide to change the law? Is it at the insistence of the EU (after criticisms from some countries, especially from Germany, but also from France, Greece, Spain or Italy), or are there internal motives?
Amendments to the criminal code and to the law against organized crime and racketeering were caused by the current challenges that the country faces in its fight against organized crime.
The regulation targeting the "thieves' world" was adopted in 2005. Considering the permanent variation of the rules, means and possibilities of the "thieves' world," that legislation no longer responds to modern standards and challenges.
In addition, the law contains [some] obscure articles, which hinders fair and objective trail. The amendments were elaborated based on the analysis of the Georgian case law and the best international practices. It should be noted that according to the draft amendments, fight against the "thieves' world" becomes stricter. Amendments increase sanctions for the crimes: of being the "thief in law" and for membership of the "thieves' world." Providing support to the "thieves' world," participating in thieves' meetings or applying to the "thieves' world" [for assistance] becomes a criminally liable action. The new legislation will come into force within a month after its review in parliament is completed.
But, the criticism that came from EU partners is not playing any role in the decision to amend the law? Few months ago, eight members of a criminal gang were arrested in Paris, in cooperation with the French police.
Yes, of course we do everything to cooperate with our European partners, but we started before those remarks were voiced in the last weeks.
You mentioned the Paris operation. One of the key reasons it was successful is that we now have police attachés in some of our embassies, as in Paris since September 2014. This is very important because a key issue in this is the cooperation between the countries. This is why next month we will sign an agreement with Europol, to start the operational cooperation immediately.
We do our best to fight against criminals, who are often ethnically Georgian, but many are not citizens of Georgia. They [often] have Ukrainian, Russian, Belarusian passports [which makes our efforts even harder].

Strengthening of the law against "thieves-in-law" is not directly connected with the question of the free visa regime. It is about fighting organized crime. This is where we need to cooperate more. We want to increase the number of police attachés in some of our embassies in Europe, and in our neighboring countries, like in Armenia and Azerbaijan. Maybe we will also have police attachés in specific regions of countries, like some of the federal lands of Germany. We try to do our best.
But my feeling is that now we face the end of a wave that came right after the visa liberalization, on March 28, 2017, whether [we speak about] the criminals or the asylum seekers. I am pretty sure that within three or four months, we will see a significant decline in the number of cases.
Moreover, we are a small country, 3.7 million people, so we cannot weigh a lot on the situation in Europe. But whatever we do, we will implement new measures so as to be irreproachable, like toughening the law on the change of family names. [According to police research, significant number of Georgian citizens expelled from Europe were using relatively liberal legislation in Georgia to change their family name and return to Europe with new identity documents. The new Law toughens the conditions under which the change of the last name is allowed. – Civil.ge]
I would like to speak about one specific case, which has deep implications both for the trust that Georgian citizens have in the police and the image that Georgia has abroad, as a safe country and a regional "beacon of democracy." This is the case of Afgan Mukhtarli, Azerbaijani journalist who just confirmed to Rustavi 2 TV channel that he had been abducted by people who "wore the uniforms of the Georgian criminal police." How is it possible, that eight months after the kidnapping, almost nothing has come out of the investigation?
Of course, I have to say that this has to be investigated. No question [about that]. The fact that the kidnappers were wearing the Georgian police uniforms proves nothing until [the case] is properly investigated. We have to wait for the [results of the] investigation.
The problem we face is a matter of procedure, and just of the procedure, because this person [Mukhtarli] is now in Azerbaijan, and this is why [the investigation] will take a bit more time [than usual]. It is not a matter of years, we will see progress in a reasonable time. We can talk with him any time, in Baku. The prosecutor's office already sent a request to Azerbaijani authorities to be able to interview him for the investigation.
The distrust in the police is increasing. CRRC barometer for example shows that 51% "rather" or "fully" trusted it in 2017, while it was 67% in 2011. How do you explain this decrease of trust in the police? And what do you intend to do?
Yes, there is a decrease of trust in the police. This is also why we have this ambitious reform agenda that we spoke about at the beginning of our discussion. We have to build bridges with our population. The upcoming initiatives, like when we will implement the first step in the criminal police reform in March or when we will open the special service space of the patrol police in May, we will start to recover this trust. We also recently created a human rights department in the Ministry and also agreed to create an independent investigation agency, a kind of "police for the police."
To end this interview, I will ask a question to find out whether you are a politician… May I ask you if you are the next Prime Minister?
It is not possible. That is a rumor, and I will not comment on it.