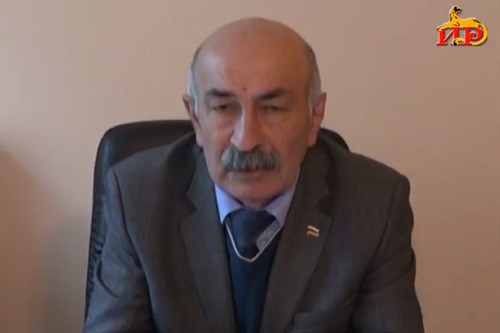 Murat Jioev, February 26, 2018. Photo: screengrab from TV Ir
Murat Jioev, representative of the Russian-backed Tskhinvali leader Anatoly Bibilov, said on February 26 that the body of Archil Tatunashvili, who had died in Tskhinvali security service custody following his detention on February 22, would not be released to his family until an "independent examination" of Tskhinvali autopsy's materials was conducted in Russia.

Jioev repeated Tskhinvali KGB's version that Tatunashvili, 35 years old, died of a heart failure. He added: "In order for our conclusions to be confirmed by independent experts too, we sent the materials for an independent examination," meaning the one to be conducted in the Russian Federation. Only after that, said Jioev, would Tatunashvili's body be released to the Tbilisi-controlled territory.

Regarding the other two persons who had also been detained by Tskhinvali security on February 22, Jioev said they had been freed and were in Akhalgori, "but since the investigative agencies might come up with some questions to them, they will temporarily stay in the republic [Tskhinvali Region/South Ossetia]." Jioev said the two individuals would be let go later.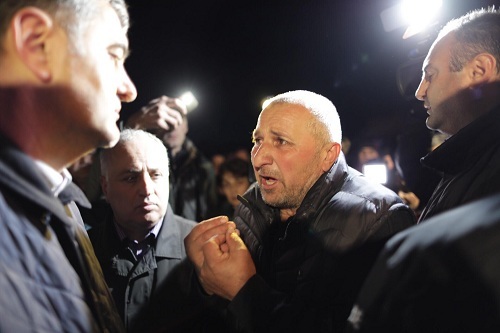 Relative of Archil Tatunashvili talking to IDP Minister Sozar Subari and MP Dimitri Khundadze. Photo: Civil.ge / Eana Korbezashvili
Meanwhile, approximately 500 anti-occupation activists and relatives of Tatunashvili, gathered in village Natakhtari in the evening of February 26 and blocked the Georgian Military Road linking the country to Russia.

The rally was called shortly after the announcement by the Georgian Security Service official that the authorities in Tskhinvali refused to transfer the body of the deceased to Tbilisi, citing necessity for further examinations of his body.

The protesters accused the government of failure to deliver Tatunashvili's body to Tbilisi, and demanded handover of his corpse by midday on February 27. Later, they moved to a nearby location and blocked the East-West highway – the country's main transport link.

The rally was over by 23:00, at the request of Tatunashvili's father Giorgi Tatunashvili following his meeting with government officials. One of the relatives announced the rally would be convened again on February 28, unless their demand was fulfilled.

Archil Tatunashvili was detained by the Russian-backed Tskhinvali authorities' security force on February 22 in the occupied Akhalgori Municipality. He was then taken to Tskhinvali, where he died, with local KGB claiming he had resisted the guards and "rolled down the stairs." Tatunashvili's family denies the version, saying he was tortured and killed by the Tskhinvali security forces.