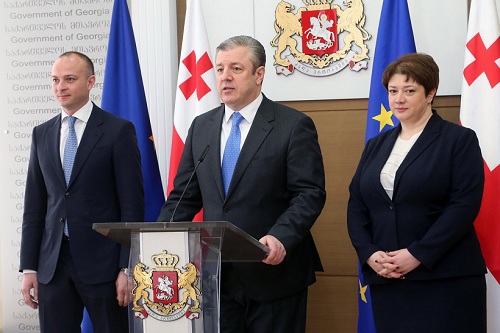 Zurab Alavidze, Giorgi Kvirikashvili and Maia Tskitishvili, March 30, 2018. Photo: gov.ge
Georgian Prime Minister Giorgi Kvirikashvili appointed today Maia Tskitishvili as new Regional Development and Infrastructure Minister, replacing Zurab Alavidze, who served at the post from November 2016.

Maia Tskhitishvili, 43, has worked as head of the Georgian government's administration since November 2012. For almost a decade before that, Tskitishvili held a number of managerial positions at ex-PM Bidzina Ivanishvili's companies.

Speaking at a press briefing today, PM Kvirikashvili said Maia Tskitishvili was "a very successful" head of administration. "It will be hard to find a person who will lead the administration as successfully as her, but the position of the Regional Development and Infrastructure Minister is so important, I had to make this decision," the Prime Minister noted.

Giorgi Kvirikashvili spoke on Zurab Alavidze as well, saying he filed for resignation himself and that he would continue his tenure in private sector. The Prime Minister said Alavidze "did not envision himself in public sector in the long run."

PM Kvirikashvili also commented on media reports on his possible resignation. "I would like to reassure everyone that the stopwatch that some persons (implying the opposition) have started, won't run out for at least several years," he quipped.

The ministerial appointment does not require approval from the Parliament. Confidence vote from the legislative body is only needed when more than one-third of the 14-member cabinet is changed.