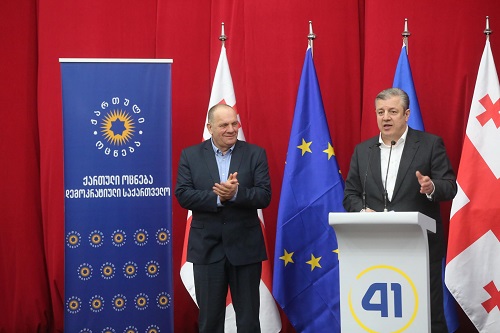 Givi Chichinadze and Giorgi Kvirikashvili, March 30, 2018. Photo: gov.ge
Georgian Prime Minister Giorgi Kvirikashvili presented yesterday Givi Chichinadze, former governor of Imereti region, as the ruling party candidate for the April 28 parliamentary by-elections in the Vani and Khoni single-mandate constituency.

PM Kvirikashvili introduced the candidate at indoor party gatherings in the towns of Khoni and Vani, where he spoke about infrastructure and economic projects implemented or planned by the government in Imereti region.

He also called on the party supporters and activists to vote for Givi Chichinadze in the upcoming polls. "I think he will simply have no challengers, but even if there is one, I am sure Givi Chichinadze will gain an overwhelming victory," Kvirikashvili told reporters after the meetings.

Speaking about GD candidate's main contender - former Tbilisi Mayor Gigi Ugulava, Prime Minister Kvirikashvili stressed the people "who left a disastrous legacy in Georgia's modern history and who created a very difficult setting together with the occupation force in terms of the occupation and the unilateral recognition of our two historical regions," had "no moral right to challenge the political force, which did its utmost to create an environment of development in the country."

Nine candidates have been registered for the April 28 by-elections, including the ones nominated by the Georgian Dream and the European Georgia parties. The third parliamentary party - the Alliance of Patriots - has fielded a candidate as well. Five more have been named by non-parliamentary opposition parties, and the remaining one - by an initiative group.

The majoritarian seat in the Vani and Khoni single-mandate constituency became vacant after Grigol Liluashvili, a ruling party lawmaker, who chaired the Parliament's committee for regional policy and self-governance, was appointed the deputy head of the State Security Service.