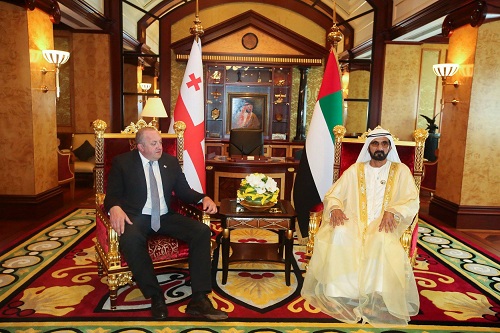 President Giorgi Margvelashvili and Prime Minister Mohamed Bin Rashed Al Maktoum, April 10, 2018. Photo: president.gov.ge
Georgian President Giorgi Margevlashvili was on an official visit to the United Arab Emirates (UAE) on April 10-11, where he met the country's leaders, including Prime Minister Mohamed Bin Rashed Al Maktoum.

Upon arrival to the UAE, President Giorgi Margvelashvili was welcomed by the Crown Prince of Abu Dhabi, Mohamed bin Zayed Al Nahyan. The sides discussed how to enhance "cooperation and friendly ties" on regional and international issues at their meeting, according to the Crown Prince.

The President's press office reported that the sides spoke on "growing" economic ties. "Georgia values the friendship and close partnership with the United Arab Emirates and is ready to work for enhancing the friendly and positive cooperation agenda," Margvelashvili was quoted as saying.

The Georgian President focused on the security environment as well, informing the Crown Prince of Russia's "continued provocations" and human rights violations in Abkhazia and Tskhinvali Region/South Ossetia.
Later on April 10, President Margvelashvili was received by Prime Minister Mohamed Bin Rashed Al Maktoum.

According to Margvelashvili's press office, the sides spoke on Georgia's investment potential and on deepening bilateral cooperation in trade, economy, tourism and agriculture, as well as the possibility of signing the free trade agreement between the two countries.

During his visit to UAE, President Margvelashvili also delivered a lecture on the Georgia-UAE partnership at the Emirates Center for Strategic Studies and Research (ECSSR).
Georgia's Economy Minister Dimitri Kumsishvili, who accompanied Margvelashvili in UAE, held meetings of his own - with Economy Minister Sultan Bin Saeed Al Mansoori, and Sheikh Nahyan bin Mubarak Al Nahyan, who heads the Ministry of Culture, Youth, and Social Development - and addressed the Annual Investment Meeting in Dubai.

The United Arab Emirates is the leading trade partner for Georgia among the Gulf countries, according to the State Statistics Office, Geostat. Georgia's trade turnover with the United Arab Emirates stood at USD 182.1 million in 2017, with exports at USD 37.4 million (USD 32 million in 2016) and imports at USD 144.7 million (USD 138.2 million in 2016).