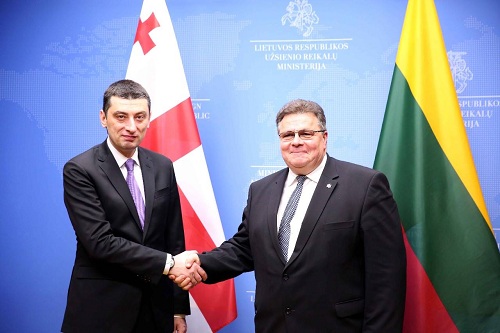 Giorgi Gakharia and Linas Linkevicius, April 23. Photo: facebook.com/MIAofGeorgia
Georgian Interior Minister Giorgi Gakharia was on a three-day working visit to Lithuania, where he met with Foreign Minister Linas Linkevicius and Interior Minister Eimutis Misiunas, and discussed the two countries' police cooperation, including in countering organized crime.
According to the Georgian Interior Ministry, Gakharia informed the Lithuanian officials of the steps the Georgian government had implemented for avoiding the EU visa waiver suspension, including its decision to tighten regulations for reducing the growing number of Georgian asylum seekers to EU member states.
Speaking after the meeting on April 23, Foreign Minister Linas Linkevicius said there were "some hurdles" in the implementation of the visa-free regime, but noted that he hoped the Georgian government would "take measures to dismiss all doubts and questions."
"We see that Georgia shows a clear commitment to addressing challenges faced by them, so we have no doubt that they will reap positive results in the nearest future," he also stressed.
During his visit on April 22-24, Interior Minister Giorgi Gakharia met with Police Commissioner General Linas Pernavas as well, with the two discussing the results of bilateral cooperation in witness protection, forensics and countering cybercrime.