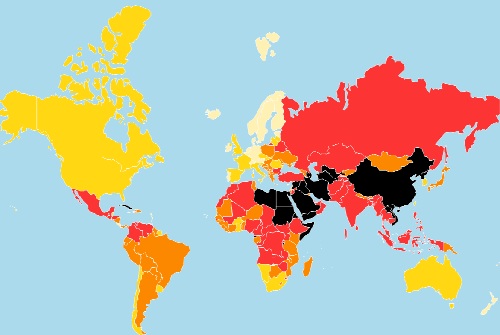 2018 World Press Freedom Index. Source: Reporters Without Borders
Georgia's press freedom score improved in 2017 over the previous year, according to a study by the Paris-based watchdog group Reporters Without Borders.
2018 World Press Freedom Index, a country-by-country survey on the level of freedom available to journalists, covers developments of 2017.
Georgia, according to the survey, is ranked 61st in the table of 180 countries with 27.34 points, up from 64th (27.76) place in 2017.
The index rankings are based on a scale of 1 to 100, with 0 representing the highest and 100 the lowest level of press freedom.
None of the countries of the former Soviet Union (except the Baltics) are ranked ahead of Georgia.
Report Assessments
"Georgia's media are pluralist but still very polarized. The reforms of recent years have brought improvements in media ownership transparency and satellite TV pluralism, but owners still often call the shots on editorial content," the organization said in its index-related assessment on Georgia.
The Reporters Without Borders then noted that the "continuing dispute" over ownership of the "main national opposition TV channel, Rustavi 2," would "therefore have a big impact."
"Violence against journalists is less frequent although threats are often reported," the organization added.
It also touched upon the case of Afgan Mukhtarli, saying the Azerbaijani journalist's "abduction" in Tbilisi in 2017 and his "mysterious reappearance" in police custody in Azerbaijan, "sent shockwaves" through the exile community of Azerbaijani dissidents living in Georgia.
"Two senior Georgian security officials were fired but Georgia's investigation into Mukhtarli's abduction has yet to produce any convincing explanation of how it happened," the assessment also reads.
The Reporters Without Borders compiles its annual survey based on several criteria measuring pluralism, media independence, media environment and self-censorship, legislative framework, transparency, and the quality of the infrastructure that supports the production of news and information. The qualitative analysis is then combined with quantitative data on abuses and acts of violence against journalists documented by a network of correspondents in individual countries.