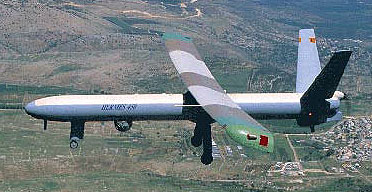 Hermes 450 UAV. Photo: Elbit Systems website
Abkhaz air-defense shot down two more Georgian unmanned reconnaissance drones on May 12 over Ochamchire district, the Abkhaz news agency, Apsnipress, reported.
Officials in Tbilisi have denied the report. The Abkhaz side has claimed downing of total of seven Georgian drones in less than two months. Tbilisi has confirmed downing of only one on April 20.
side has claimed that one Georgian drone was shot down on May 12 at about 14:16pm local time over the village of Sheshelet and another one about an hour later over the village of Achguara both in the Ochamchire district.The Abkhaz

The Abkhaz side also said that debris of one of the downed drone had been found. Gari Kupalba, the deputy defense minister, said that drones shot down on May 12 – like previous ones – were Hermes 450 produced by Israeli company Elbit Systems.