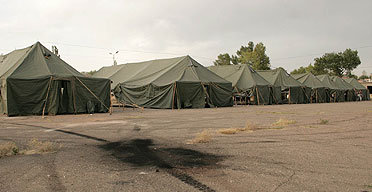 Tent town for displaced persons has been set up in the outskirts of Tbilisi, close to the airport. Photo: InterPressNews
UN refugee agency (UNHCR) reported based on estimates provided by the Georgian government that up to 15,000 people have fled south from South Ossetia into Georgia proper.
In addition, the agency said, some 73,000 people were displaced from the areas outside South Ossetia, including most of the population from Gori.
MP Koba Subeliani, a lawmaker in charge of overseeing the matter, said on August 16, that number of displaced persons, who have found shelter in Tbilisi, has reached 60,000.
He specified that the number involved only those displaced persons who had been registered by the officials and are living in collective centers. Most of them have found shelter mainly in schools and kindergartens.
UNHCR also said that its staff in Georgia, in a two-day operation, escorted more than 700 "frightened residents" of the upper Kodori Gorge to safety. Upper Kodori Gorge was the only part of Abkhazia before it was taken over the Abkhaz forces, backed by the Russian troops, on August 12.
UNHCR also said on August 15, based on data provided by the Russian authorities, that some 30,000 people from South Ossetia were still in the Russian Federation.