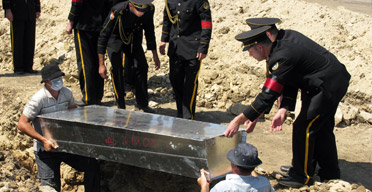 Officials said the identities of the unknown soldiers would become known following DNA examination. Photo: Guram Muradov/Civil.Ge
Twenty six unknown Georgian soldiers killed in clashes with Russian troops and South Ossetian militiamen were buried in Tbilisi on August 28.
The South Ossetian side handed over to Georgia the bodies of 43 soldiers late on August 27.
Davit Kezerashvili, the Georgian defense minister, who attended the burials, told journalists that 20 Georgian soldiers were still missing.
According to official Georgian government information issued on August 19, 133 Ministry of Defense personnel were killed in the conflict and 70 soldiers remained unaccounted for.
Based on these figures, the official death toll among soldiers now stands at 183 – four of whom were reservists.
According to official information, 13 Interior Ministry personnel were also killed in the conflict.