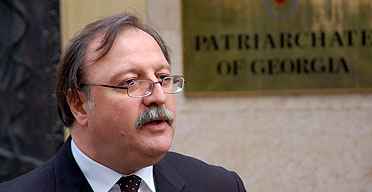 Foreign Minister, Grigol Vashadze, speaking with journalists after meeting with Patriarch Ilia II, following the latter's visit to Moscow. Photo: InterPressNews
President Saakashvili welcomed the Georgian Orthodox Church's efforts to build channels of communication with Moscow, but also hinted to be cautious about Russia's "general statements," which may only sound positive.
A delegation of the Georgian Orthodox Church, led by Patriarch Ilia II, visited Moscow this week to attend funeral of Russia's Patriarch Alexy II. During the visit the Georgian Patriarch met with Russia's President, Dmitry Medvedev.
Speaking with a group of farmers in Batumi, Adjara Autonomous Republic, on December 12, President Saakashvili said that he had met with the Patriarch a day before his departure to Moscow and discussed during "a lengthy conversation a message, which the Patriarch had to convey to the Russian President."
"I am grateful that he [Ilia II] told him [President Medvedev] everything, word in word, what we have discussed before this visit; he [Ilia II] has also put forth his opinion before the country, which has occupied and still occupies a very important part of Georgia's territory. The Georgian Patriarch made it clear that not a single Georgian will ever reconcile with occupation of Georgian regions, capturing of Georgian lands," Saakashvili said.
"I am very grateful that the Patriarch has undertaken this diplomatic mission – this is in fact a public diplomacy mission," he said.
Saakashvili also said that Tbilisi wanted to have "good relations with the Russian Federation" and "we hope that Russia will some time – sooner than later – demonstrate common sense and understand that you can't get what does not belong to you."
The Patriarch, Ilia II, said upon his arrival back from Moscow on December 11 that the Georgian authorities should take an advantage of, as he put it, a positive momentum of his visit and continue a dialogue with Russia.
"I want to say that the Russian President is in favor of return of refugees and this is a very pleasant symptom; he is also [in favor of] opening of the borders and functioning of embassies," he said. "There was an agreement in almost all the issues and I think that our authorities should use our visit there and continue this course, I think that it will bring good results."
President Saakashvili, however, said in an obvious reference to these remarks by the Patriarch: "When they made general statements that they are ready to return internally displaced persons to their homes, I hope that this is truth – but I simply want to remind everyone that our people were expelled from their homes by the armed forces of that very same Russia."
As President Saakashvili was making these remarks in Batumi, Georgia's Foreign Minister, Grigol Vashadze, was meeting with the Patriarch in Tbilisi discussing details of talks with President Medvedev.
"What he [Ilia II] told me was very interesting; but do not ask me details," Vashadze told journalists after meeting with the Patriarch.
He said that the Patriarch's mission amounted to resumptions of dialogue with Russia and also added that contacts on the government level might also follow.
"We can be an excellent neighbor, we will talk about anything [with Russia]; the only thing that can not be discussed is Georgia's territorial integrity, its sovereignty and independence," Vashadze said. "[The Patriarch] has repeated, word in word, these principles when he met with the Russian President."
He also said that the Georgian Orthodox Church "is very authoritative" including in Russia as well.

President Saakashvili also said in Batumi on December 12, that Georgia planned to hold cultural events in Moscow and in some other cities of the Russian Federation "in order to remind the Russian society about those big cultural ties and big cultural treasure which Georgia has."
He also said that Tbilisi welcomed any type of contacts with the Russian side; he, however, also added: "Let me repeat once again what our Patriarch has told them: never ever will Georgians reconcile to annexation of the Georgian territories."
The Georgian Orthodox Church, which plays an important role in the country's public life and in turn is also capable to exert influence on the political life as well is widely viewed in Georgia as a key pillar of national identity and of statehood, and it continues to exert a considerable amount of influence over public life.
The Georgian Orthodox Church delegation visited Moscow in November too and met with Russia's Deputy Foreign Minister, Grigory Karasin, which was the first official contact between the two countries after the August war.
Back in January, 2008 when Russia's Foreign Minister, Sergey Lavrov, arrived in Tbilisi to attend the presidential inauguration of Mikheil Saakashvili, the Georgian Patriarch was the first whom the Russian Foreign Minister met.
During that meeting Ilia II told Lavrov: "Separatism is an infectious disease… I would like to see this problem resolved before the end of Vladimir Putin's presidential term [in March, 2008]. We respect him deeply; he makes much for our relations."