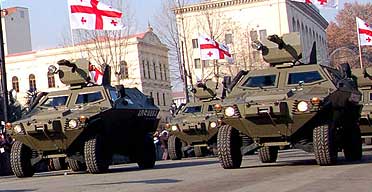 Cobra light armored vehicles parading in Tbilisi at a ceremonies marking Mikheil Saakashvili's presidential inauguration on January 20, 2008. Photo: InterPressNews
European Monitoring Mission (EUMM) in Georgia said it was concerned about the deployment of Georgian police armored Cobra vehicles to the areas close to the South Ossetian and Abkhazian administrative borders.
Hansjörg Haber, the head of EUMM, said that although deployment of these armored vehicles "is not in violation of the relevant provisions of the six-point plan of August 12 and the Implementation Agreement of September 8," the move came against EU monitors' advice.
"EUMM has consistently advised against the deployment of these military-type vehicles because it firmly believes that they will not contribute to enhancing the security situation on the ground," Haber said.
The Georgian Interior Ministry introduced its Turkish-made wheeled light armored vehicles, Cobra, for patrolling the adjacent areas of the breakaway regions on December 24.
The Georgian side informed international observers, including OSCE monitors on the ground, about the intention to deploy Cobra vehicles, in November.

The Georgian Interior Ministry also informed international monitors that no heavy weaponry would be installed on the vehicles.
Head of EUMM also said that the Georgian side's wish to provide more security for their policemen deployed in the areas adjacent to Abkhazia and South Ossetia was understandable as ten Georgian police officers had been killed in those areas since the end of the August war.
"However, not in one of the instances in which Georgian police officers have been killed since EUMM began its monitoring activities could this have been prevented by the presence of an armored vehicle," Haber said.
He also said that there was "a sense of insecurity prevailing in the immediate vicinity of the administrative boundary lines."
"But on the whole, EUMM would still assess the security situation as better than expected so far," Haber continued. "The restraint shown by Georgian law enforcement officers has played an important role in maintaining this level of security."
Cobra vehicles were seen in action during the August war. At least one Cobra vehicle was captured by either South Ossetian militias or the Russian forces during the August hostilities, as it was shown by the South Ossetian side during a parade in Tskhinvali on September 20.