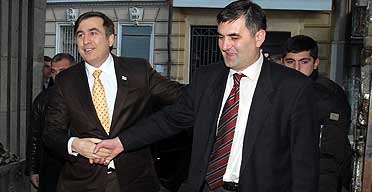 Mikheil Saakashvili, who was at that time a president-elect, met with Sozar Subari on January 15, 2008, after the latter published an open letter criticizing the authorities' human rights practice and urging Saakashvili to make a positive U-turn during his second term in office. Photo: InterPressNews
Public Defender, Sozar Subari, may announce about resignation after presenting his annual human rights report to the parliament next week, the Georgian daily, Rezonansi, reported on December 26.
The Georgian media has been speculating intensively about Subari's possible political career for over two months already. In late October, Subari has strongly denied having plans of going into politics. Earlier in December he did not rule out quitting his post before the end his term in office in September, 2009 saying that it would depend on how political situation developed in the country.
The Rezonansi reported on December 26 that speculation on the matter reemerged again after Subari met Georgia's former UN envoy, Irakli Alasania, who is holding consultations with various political parties and figures before eventually determining his future political plans.
Subari, however, told the Rezonansi when asked whether he was planning to resign: "Today I am a Public Defender and I have my duties to fulfill in my term in office and that is now my main goal."
He said that Irakli Alasania laid out his views during the meeting. "I share his views on main issues and I agree with them," Subari added.
Meanwhile, Irakli Alasania told the Georgian news website presa.ge that his and Subari's views "on how to bring the country out of the crisis coincide."
"We will continue dialogue," Alasania said and added that his remarks should not be interpreted as a decision was made on political cooperation between him and Subari. "I simply confirm the fact of meeting [with Subari]," Alasania added.