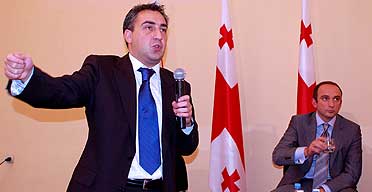 Nika Gilauri (left) and Grigol Mgaloblishvili (right), November, 2008. Photo: InterPressNews
President Saakashvili nominated Finance Minister and First Vice Premier,
Nika Gilauri
, as new Prime Minister, following Grigol Mgaloblishvili's
resignation
.
Kakha Baindurashvili
, 30, deputy finance minister, has been nominated as new finance minister to replace Gilauri.
Speaking at a meeting with government members in the evening on January 30, President Saakashvili said there would be no other changes in the cabinet, which now will face the parliament's confidence vote.
"Today we have no time for experimenting," Saakashvili said. "This is not a new cabinet, because except of this change, no other changes at this stage – and probably for a long time – will not be carried out in the government, because now we need stability. Situation, in terms of both economy and security, remains vulnerable."
Some of the pre-planned changes in the government are expected in early February, related with creation of two new ministries – one for penitentiary and probation and another one for regional development and infrastructure. The latter will be led by Davit Tkeshelashvili, currently a state minister for regional issues. Deputy Interior Minister, Eka Zguladze, has been rumored to take the post of Minister for Penitentiary and Probation.
Nika Gilauri, 33, along with Giorgi Baramidze, the state minister, is a longest-standing government member, serving as a minister since February 2004, when President Saakashvili and late PM Zurab Zhvania formed their first cabinet. He was the Energy Minister in 2004-2007 and then Finance Minister.
Saakashvili hailed Gilauri's contribution in, as he put it, "building energy sustainability and stability" while serving as the Energy Minister and also for his role in creating sustainable financial system, while serving as the Finance Minister.
He also said he regretted that former PM Grigol Mgaloblishvili had to resign because of his poor health condition.
"We need to work like a military headquarters; we have no right to relax and we should work night and day in order not to sink in the economic storm which is now around Georgia," Saakashvili said.
He told the PM-designate that his first task in the new capacity would be to elaborate "a more flexible" medical insurance system, which would enable the socially vulnerable population to have access to medical service.
Saakashvili also told the cabinet members "to have permanent dialogue with the society."
"I want you to permanently explain to the society what we are doing to save working placing and for maintaining stability in the country and for Georgia's unification," Saakashvili said. "Many threats are ahead, but we should know that if we maintain stability Georgia will be able to overcome all these threats."
The former PM, Grigol Mgaloblishvili, announced about his resignation on January 30, citing poor health condition.
The move did not come as a surprise. There has been widespread speculation in the Georgian press in recent weeks about Mgaloblishvili's intention to resign following his alleged dispute with President Saakashvili; the press has been predicting that the health problems would have been cited as a reason behind the resignation.