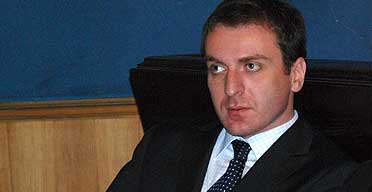 Kakha Baindurashvili, February, 2009. Photo: InterPressNews
Finance Minister-designate, Kakha Baindurashvili, 30, has been a first deputy finance minister between March, 2007-January, 2008.
In June, 2006-March, 2007 he served as chairman of the tax department at the Finance Ministry.
He was an advisor to the Prime Minister in 2004-2005.
In 2002-2004 he was a consultant at UN Development Program and served as head of the Finance Ministry's investment monitoring unit for two years since 2000.
He was an editor at the Tbilisi-based news agency, Prime-News, in 1999-2000.
In 2006 he earned master's degree in economics at Williams College, Williamstown, USA and master's degree in economics in the Tbilisi State University in 2000.