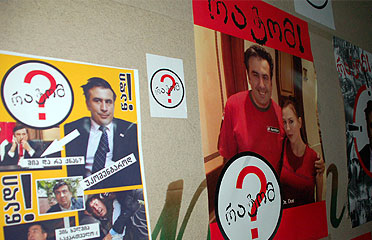 One of the pro-opposition youth groups is hanging posters in the Tbilisi streets depicting pictures of President Saakashvili together with an US masseuse, which has become talk of Tbilisi recently.
Police detained four activists from a pro-opposition youth group 'April 9' on March 31 while rallying outside a restaurant in downtown Tbilisi, where President Saakashvili was having a dinner. They were released after court in Tbilisi fined each of them with GEL 400 later on the same day.
Tbilisi-based pro-opposition television station, Maestro TV, said that its crew, which was filming the rally outside the restaurant, was assaulted by the President's security guard, which, the television station said, seized tapes recorded by its journalists. Other members from the group were gathered outside the parliament to protest the detention of their fellow activists. They were also joined by some opposition party leaders.
'April 9' group was set up mainly by youth activists from those opposition parties, which are organizing protest rallies planned to be launched from April 9 to demand President Saakashvili's resignation. The group, together with some other youth pro-opposition organizations, is actively campaigning in recent weeks with frequent rallies under the banner 'Change' and with the use of obstruction-type tactics. A separate youth pro-opposition group has also emerged recently campaigning under the banner 'Why?'.
The group has been hanging posters in the streets of Tbilisi showing a picture of President Saakashvili together with an U.S. masseuse Dr. Dot. The picture was posted on the latter's blog, where she was writing about her "favourite client" President Saakashvili. The story became talk of Tbilisi after the Georgian tabloids reported about it and after it was picked up by two Tbilisi-based small television stations, Maestro and Kavkasia.