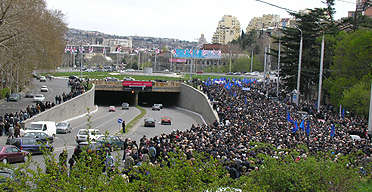 Alliance for Georgia activists and supporters marching from public TV towards the Parliament. Photo: Civil.Ge
Thousands of protesters are marching from various venues in Tbilisi, led by opposition leaders towards the Rustaveli Avenue, outside the Parliament, which will be a focal point of rallies to demand President Saakashvili's resignation.
Tbilisi-based Maestro and Kavkasia TV stations said they would provide live coverage of the rally from about 3pm local time.
Riot police have been seen taking positions inside the Parliament and the public TV, as part of the authorities plans to reinforce security of government buildings announced on April 8 by Interior Minister Vano Merabishvili.