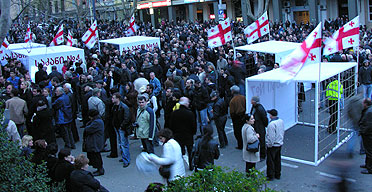 Protesters outside public TV on April 14. Photo: Civil.Ge
The opposition leaders further widened geographical area of protests and camped outside the public TV on the sixth day of rallies on April 14.
The move implies similar tactic employed by the opposition outside the presidential residence, where dozens of tents were set up for "round-the-clock rallies" on April 14.
Instead of tents, however, the opposition brought eight mocked-up cells and put them on Kostava Street on Monday evening.
Improvised cells are meant to replicate a popular reality TV show hosted by singer Giorgi Gachechiladze, with nickname Ucnobi, who is in a self-imposed 'imprisonment' in a Maestro TV studio turned into 'a cell' packed with cameras. Gachechiladze, who launched 'TV protest' in late January, vows to stay there unless Saakashvili resigns. His show has become one an important elements behind the opposition's drive. Recently Gachechiladze called on opposition leaders from his TV show to launch 'campaign of cells' in various parts of Tbilisi.
Meanwhile, traffic is also blocked outside the Parliament on Rustaveli Avenue - the key protest venue - for sixth consecutive day. Unlike a small street at the presidential residence, which has also turned into the round-the-clock protest venue, Kostava Street and Rustaveli Avenue are among major thoroughfares of the capital city.
Traffic was reopened overnight on Wednesday outside the public TV and remained opened as of Wednesday morning.
At about 3pm on April 14, several thousand of protesters – less than it was on April 13 - reconvened at the rally outside the Parliament.
Before moving towards the public broadcaster, one part of protesters marched towards the Tbilisi State University to mark 31st anniversary of mass demonstrations in Tbilisi against the Soviet Union leadership's attempt to change the constitutional status of the Georgian language.

The rallies outside the public broadcaster were held in early days of the protests, but for few hours only.

Speaking at the rally outside the Parliament Davit Gamkrelidze, the leader of New Rights Party, part of Alliance for Georgia, slammed public TV and its general director, Levan Kubaneishvili, for not allocating enough airtime to cover ongoing rallies. The Georgian nation-wide television stations, including Rustavi 2 TV, Imedi TV and the public TV's First Channel, were extensively covering the rallies during the first days of protests. In recent days, however, televisions reduced the coverage. Gamkrelidze's announcement about the opposition plans for April 14 was aired live by the public TV in its 4pm news bulletin.
Gamkrelidze also said that Alliance for Georgia and Levan Gachechiladze, an individual opposition politician, will be in charge of a rally outside the public TV; while Conservative Party; Movement for United Georgia and Party of People will be focused more on the rally outside the presidential residence.