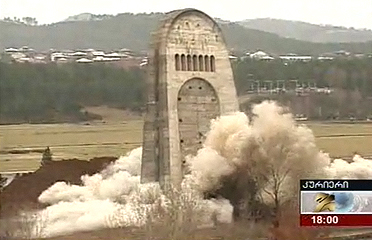 Photo: a screenshot from Rustavi 2 TV's news program.
An explosion to demolish a World War II memorial in Georgia's second largest city of Kutaisi killed two people, officials said.
A mother and her 11-year-old daughter were the victims. Several other people were injured.
"According to the preliminary information safety measures were not met," Murtaz Zodelava, the country's chief prosecutor said and added that the investigation was ongoing.
Removal of the 46-meter-high concrete and bronze memorial aimed at making the way for a construction of a new building of the Parliament.
The authorities' plan to demolish the memorial was strongly opposed by the opposition groups. Local activists from the various opposition parties in Kutaisi rallied at the memorial on December 18 saying that the decision to demolish the monument was made without taking into consideration the local population's opinion as well as without consulting with the author of the memorial, sculptor Merab Berdzenishvili.
The plan to demolish the WWII memorial also triggered the Russian Defense Ministry to announce in its statement that it was "concerned" about the decision and the Russian Foreign Ministry said in a separate statement that the plan demonstrated the Georgian authorities "disrespect" towards the WWII veterans.
Works to demolish the complex started earlier this week and according to reports circulating in the Georgian press the finalization of the process was expected on December 21 with explosion of the main part of the memorial.
But a statement released on December 18 by the Georgian Foreign Ministry in response to the Russian Foreign Ministry's statement did not indicate that there were plans to demolish the memorial; it said that "relocation" of the monument was intended and "rehabilitation works" were ongoing.
"The monument was badly damaged in 90s – in the period, when developments inspired by Russia were happening in Georgia. As a result, the memorial requires rehabilitation works," the Georgian Foreign Ministry's statement reads. It also says that the Russian Foreign Ministry "has an immoral habit of permanently interfering in other countries' internal affairs."

A spokesperson for the Georgian Foreign Ministry told Civil.Ge that "relocation" and "rehabilitation", mentioned in the statement was referred to, as she put it, "main part" of the memorial complex – a monument of a horseman and not to the part of the complex which was demolished.