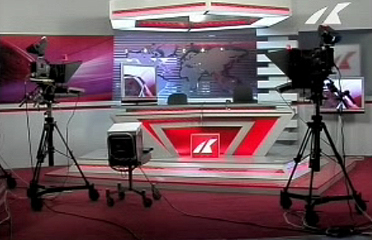 Currently the First Caucasian continues broadcasting through internet and in Georgia it goes out on cable.
Europe's leading satellite operator,
Eutelsat Communications
, has refused to host Georgian Public Broadcaster's (GBP) Russian-language
First Caucasian Channel
, chairman of GPB's board of trustees, Levan Gakheladze, said.
Gakheladze blamed "Russia's pressure" for the operator's refusal to sign a contract with GPB.
"Talks have ended without result," Gakheladze told Civil.Ge by phone. "We plan to sue the company [Eutelsat] in the Paris court."
Gia Chanturia, GPB general-director, who was holding negotiations with Eutelsat in Paris, said the operator failed "to give any logical explanation of its decision."
Gakheladze said that GPB would launch talks with three other satellite operators on hosting of the First Caucasian, but declined to specify the companies.
The First Caucasian Channel was launched early this month, initially on internet and it became available on satellite since January 15.
For less than two weeks the channel was hosted on Eutelsat's new W7 satellite operating at the 36 degrees East - a key location for broadcasting in Russia and other CIS states, as well as in Europe and Africa. The Georgian Public Broadcaster's First Channel, as well as many of Russian TV channels, is also available on the same location.
Eutelsat took the First Caucasian Channel off the satellite, citing the end of testing period.
The company denied allegations that it came under Russia's pressure and said the First Caucasian could resume satellite broadcasting as soon as the contract was signed.
"From our perspective there should be no reason why we should not conclude a contract with them," AFP news agency reported quoting Eutelsat spokesperson Vanessa O'Connor.
Gia Chanturia, however, said that the operator offered new conditions in the contract, which were "totally unacceptable for us."
Eutelsat was reportedly offering the GPB location on satellite other than the one First Caucasian Channel held since January 15. But the offer was rejected as other locations, according GPB officials, was not properly covering the geographical area it was interested in.
GPB also said that Eutelsat decision to retract its initial offer to host First Caucasian on its W7 satellite was related with "lucrative offer" from Russia's Gazprom Media Group, which owns Russia's largest Pay-TV provider NTV-Plus.
On January 15, the day when First Caucasian launched satellite broadcasting, Eutelsat
made public
its agreement with Moscow-based Intersputnik according to which the latter was leasing 16 transponders on Eutelsat's W7 satellite to provide new resources for NTV-Plus.
Le Figaro newspaper ran an article on the matter on January 27, suggesting that Russia could be behind Eutelsat's decision to take the First Caucasian off its satellite without prolonging a contract with the Georgian Public Broadcaster. The newspaper quoted unnamed Tbilisi-based diplomat saying that Eutelsat "is under strong pressure" from Russia not to strike the contract with the Georgian Public Broadcaster.
Russian officials have publicly
condemned
the First Caucasian Channel as Georgia's "anti-Russian propaganda" and an attempt "to plant ideology of extremism" in North Caucasus.
Currently the First Caucasian continues broadcasting through internet and in Georgia it goes out on cable.