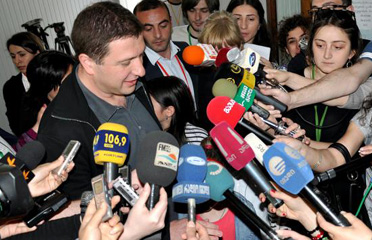 Gigi Ugulava speaking to reporters after casting ballot at a polling station in Tbilisi's Mtatsminda district.
Photo: InterPressNews
Incumbent Tbilisi Mayor, Gigi Ugulava, who stands for re-election in Sunday's local elections, said he was sure elections would be held "transparently and fairly."
"I am sure voter turnout will be high as this is really a historical moment for Tbilisi because for the first time in the history of Georgia Tbilisites will elect a mayor directly," Ugulava told journalists after casting ballot in one of Tbilisi's polling stations.
"I want to thank all participants [of mayoral race], because it was really a different kind of campaign, a business-like [campaign], all candidates were trying to offer their views to the Tbilisites. It makes me suppose and express my firm assurance that today everything will be held transparently, fairly and with high standards."
"It will be a step forward towards democratization of our country and we need this democracy to ensure more stability and more jobs. Of course, I am participating for victory but if, theoretically, we lose, I will not find it difficult to acknowledge it and congratulate the winner on the victory, because I think that this is the standard which should be established. But today we are struggling only for victory," he said.
Asked which of the mayoral candidates he deemed as his key rival, Ugulava said: "My key rival is the problems, which we failed to settle during recent five years. Of course, it is unemployment, first of all, and just it is our main rival."