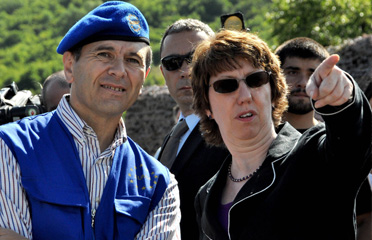 EU foreign policy chief, Catherine Ashton (right), speaks with a member of the EU Monitoring Mission in Georgia as she visits the village of Odzisi at the administrative border with breakaway South Ossetia, during her trip to Georgia on July 16, 2010. Photo: InterPressNews
EU at a meeting of the bloc's foreign ministers in Brussels on July 26 agreed to extend the mandate of the European Union Monitoring Mission in Georgia (EUMM) by twelve months, until September 14, 2011.
EUMM, deployed in Georgia in October, 2008, is mandated to monitor the compliance of all parties with the August 12, 2008 six-point ceasefire agreement.
"This prolongation of the mandate shows that EU is interested in having stability and security in Georgia and in the region," Davit Jalagania, the Georgian deputy foreign minister, said on July 27, adding that along with technical extension of the mandate, it was important to secure full implementation of the mandate on the entire territory of Georgia, i.e. including in Abkhazia and South Ossetia.