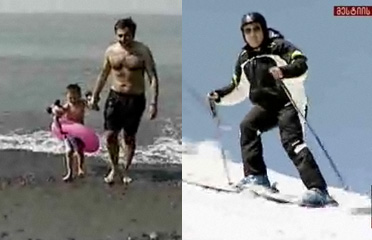 Image grabs taken from Rustavi 2 TV: left Saakashvili and his four-year-old son Nikoloz in Anaklia sea resort and right Saakashvili skiing in Svaneti, where he arrived after half-hour helicopter flight from Anaklia.
President Saakashvili said on August 3, that next year Georgia would launch a global ad campaign to promote its potential of having swimming resort on its Black Sea coast and ski resort in the Caucasus mountings during the summer period.

He was speaking in Svaneti, high-mountainous region in north-western Georgia, where he skied after swimming in Anaklia on Georgia's Black Sea coast earlier on the same day.

"We are starting global ad campaign from next January that Georgia is the only place in Europe, where you can swim at tropical beach in Anaklia and ski two hours later or even twenty five minutes later if you take a helicopter flight," he said.

"For dozens of years we have been explaining to the Europeans that Georgia can be Switzerland of Caucasus… There is nowhere in the world such a combination [of sea and ski resorts] – that's not an exaggeration; so instead of us becoming Switzerland [of Caucasus], let Switzerland now become Europe's Georgia… let others compare with us; but it requires lots of work and lots of investments."

"Tbilisi-based businessmen should learn to look beyond Rustaveli [Avenue, center of the capital city]. Invest now a Lari here and take hundred-fold profit in five years… In five-six years up to 600-700 thousand tourists or even million will be visiting this place," Saakashvili said.

"The enemy has not yet grabbed this place by its claw and development of this place is a precondition to return other [territories, referring to Abkhazia and South Ossetia]," he added.