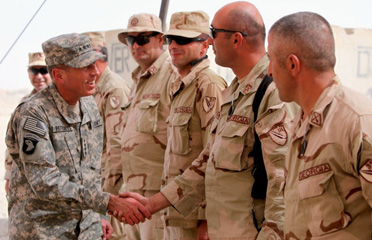 On this ISAF photo, Gen. David H. Petraeus, commander of US and NATO forces in Afghanistan, is seen meeting with soldiers from Georgia's 31st Battalion, Regimental Combat Team 2, aboard Camp Delaram II in the province of Helmand on September 6. ISAF said Gen. Petraeus commended the Georgian troops on "their professionalism and hard work".
Georgia, which has suffered its
first casualty
in Afghanistan since joining the NATO-led forces there, will not suspend or reduce its military presence in Afghanistan, Grigol Vashadze, the Georgian foreign minister said on September 7.
"Georgia will change nothing in its commitments undertaken as a partner [to the coalition forces]," Vashadze said, while speaking at a joint news conference with his visiting Estonian counterpart Urmas Paet.
"Unlike other European states, we are [geographically] closer to Afghanistan and presence of our hero soldiers in Afghanistan first and foremost serves to Georgia's national interests. This is a tragic loss, but it can not serve as a reason to suspend our mission to Afghanistan," he said.
Company commander from the 31st infantry battalion, first lieutenant Mukhran Shukvani, 28, died and another Georgian soldier was badly wounded while on mission as a result of explosion of improvised explosive device, the Georgian Ministry of Defense said on September 5. No other details of the incident were reported.
Georgia sent its 31st infantry battalion to Afghanistan in April, 2010 to serve under the U.S. command in the province of Helmand.
With this deployment Georgia increased its military presence in Afghanistan about 950 soldiers. Georgia first deployed a company-sized unit in Afghanistan under the French command in November, 2009.
According to the NATO-led mission, International Security Assistance Force (ISAF), the 31st battalion stationed in Camp Delaram II in Helmand province, along with two U.S. Marine battalions and British Royal Marine 40 Commando, is conducting counterinsurgency operations throughout the Nimruz and Helmand provinces.
The Estonian Foreign Minister, who expressed condolences over death of the Georgian soldier, said that Georgia's contribution to Afghan mission was "absolutely important for international security point of view."
"[Georgia's contribution] is also a very clear political signal from the Georgian society… and Estonia, as a member state of NATO, is very grateful that Georgia is participating in ISAF mission in Afghanistan," Urmas Paet said.