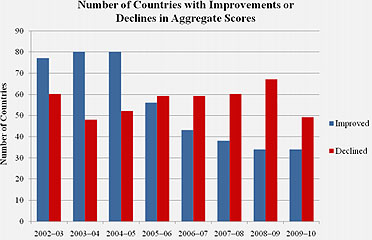 Freedom House graph shows gains and declines in aggregate scores between the 2003 and 2011 surveys. The rights watchdog group said the graph clearly show the five consecutive years of global decline in freedom.
Georgia remains "partly free", but its democracy indicators saw a slight improvement last year, according to an annual survey by the U.S.-based rights group, Freedom House, released on January 13.
Freedom in the World 2011 examines the political and civil rights in 194 countries and 14 territories around the world and covers developments in 2010. Each country or territory is given a status "free", "partly free" or "not free" based on points in political rights and civil liberties categories on a scale from 1 to 7 with 1 representing the most free and 7 the least free.
Georgia's score in political rights category remains unchanged and like in previous report it still stands at 4; but in the recent survey Georgia's score in the category of civil liberties is improved from 4 to 3.
Freedom House attributed this improvement to "a reduction in the political instability the country confronted in the aftermath of the 2008 Russian invasion."
Another reason behind the improvement, according to the survey, is "greater media diversity, including the launch of satellite broadcasts by the opposition television station Maestro."
Georgian National Communications Commission (GNCC) granted Maestro TV a satellite broadcast license for a ten-year term in mid-2009. Maestro TV launched satellite broadcasting in May, 2010; but it had to suspend it, remaining available through cable, several months later, citing financial problems.
Similar survey by the Freedom House, covering 2008, disqualified Georgia from the list of electoral democracies "due to flaws in the presidential and parliamentary election process." In the recent survey Georgia still remains out of electoral democracies.
The annual report by Freedom House also ranks breakaway South Ossetia and Abkhazia under the category of "disputed territories." Like in previous reports South Ossetia is ranked as "not free" and Abkhazia as "partly free."
According to the survey's findings, Freedom House said, 2010 was the fifth consecutive year in which global freedom suffered a decline.