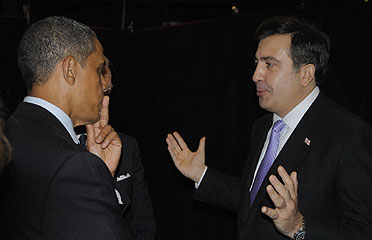 President Obama and President Saakashvili talk after the memorial service for late U.S. diplomat Richard Holbrooke in Washington on January 14. Photo: the Georgian President's administration.
U.S. President Barack Obama met his Georgian counterpart Mikheil Saakashvili in Washington on January 14 after the two leaders attended a memorial service for a veteran U.S. diplomat Richard Holbrooke, who died in December.
"Vice President Biden joined him for the conversation," the White House said in a statement.
"The leaders discussed Georgia's efforts to advance its economic development and increase trade. They also discussed security challenges in the Caucasus and the work of ISAF forces in Afghanistan, where brave Georgians stand shoulder to shoulder with American forces," it said.
The White House also said that President Obama thanked Saakashvili for making the trip to Washington for the memorial service and for the award that the Georgian President had bestowed on Richard Holbrooke.
The U.S. diplomat was awarded with Saint George's Victory Order posthumously for "promoting peace and democracy throughout the world, for his personal shares in strengthening Georgian-American relations, for his special support provided for Georgia." Shortly after Holbrooke's death President Saakashvili also announced about renaming one of the streets in Tbilisi after Holbrooke, calling him his "trusted friend and confidant."
The Georgian President's administration said in a statement, that the meeting, which lasted "more than 25 minutes", was held "upon the initiative of the White House."
"Barack Obama reiterated steadfast political support towards Georgia," the Georgian President's administration said. "During the meeting, the leaders of two countries have agreed on a meeting in frames of a broader format."
"The U.S. President tasked the National Security Council to continue cooperation to report on every concrete issue raised by the Georgian leader," it said.
The first
face-to-face meeting
between Obama and Saakashvili was held on the sideline of NATO summit in Lisbon in November.
In Washington President Saakashvili also
met
with U.S. House of Representatives Speaker, John Boehner, on January 12.
Saakashvili also met with Republican Congressmen David Dreier and Bill Shuster, as well as Senator Joe Lieberman, who he awarded with St. George's Victory Order. Saakashvili also met with Senator Richard G. Lugar, the top Republican on the Foreign Relations Committee and Senate Armed Services Chairman Carl Levin.