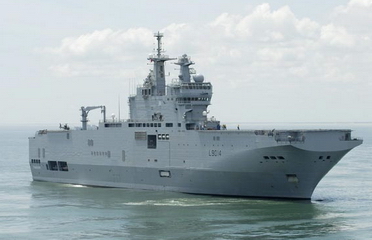 Mistral is an amphibious assault ship able to carry helicopters, troops, armoured vehicles and tanks. Photo: French Ministry of Defense
Georgia's position about French-Russian deal on Mistral warships remains "unchanged", as it may pose threat to the regional security, Nino Kalandadze, the Georgian deputy foreign minister, said on January 24.
France and Russia will
sign
a final contract on amphibious assault ship Mistral on January 25.
Asked about the French-Russian deal, the Georgian Deputy Foreign Minister said that Georgia and some other European states expressed concerns for number of times already about "the threats which this deal may pose."
She said Tbilisi hoped that both France and Russia were taking into consideration those concerns and the potential threat involving this deal would not be materialized.
"Of course we are skeptical [about the deal], when buyer [of Mistral] is the Russian Federation, as we have to deal with the state, which carried out illegal aggression against Georgia," Kalandadze said.
Asked about the deal NATO Secretary General Anders Fogh Rasmussen said at a news conference on January 24, that it was "a bilateral arrangement between France and Russia."
"We take it for granted that this trade arrangement will take place in full accordance with all international rules and regulations. And we also take it for granted that Russia will not in any way use this military equipment against any NATO ally, or any neighbor," Rasmussen said.
According to one classified diplomatic dispatch from series of leaked U.S. embassy cables, there are four major reasons behind Georgia's concerns about the French-Russian Mistral deal.
In November, 2009 cable U.S. ambassador to Georgia, John Bass, writes that the first reasons outlined by Georgian Foreign Minister Grigol Vashadze was related to the fact that it was France – the mediator of the August 2008 ceasefire between Georgia and Russia - which was selling warships and it was carrying "significant symbolic weight." Georgia worried that approval of the sale by France would indicate that the broker of the ceasefire agreement was satisfied either that Russia had complied with only part of the ceasefire accord, or that the commitments under the accord were no longer binding.
Second reasons noted by Vashadze, according to the leaked cable, was that Mistral represented a direct threat not only to Georgia, but to the entire Black Sea region.
"Third, the sale is being contemplated in the context of what Vashadze called a 'silent embargo' [on arms shipments] against Georgia, making Georgia's attempts to rethink its physical security even more difficult.
"Finally, Vashadze said that other countries - notably Spain and the Netherlands - were waiting for just such a sale from a major NATO ally to open the door to their own arms sales to Russia. A Mistral
sale would thereby open the floodgates to new procurements for Russia - procurements that could lead to even more destabilizing steps in the Black Sea region," the cable reads.
The U.S. ambassador says, according to the cable, that the sale of Mistral would "render the already difficult task of getting Russia to comply with its ceasefire commitments nearly impossible, and it would potentially increase the militarization of, and instability in, the Black Sea region."
"Although Georgia, despite the introduction of vastly increased Russian military forces into its territory, has so far refrained from actively rearming itself, the acquisition by Russia of such a ship could exacerbate public fears and virtually force Georgia to seek ways to prepare to respond," the U.S. ambassador writes and recommends Washington to take steps to discourage the sale, or "at the very least impose appropriate conditions on the sale - such as firm commitments from Russia that the ships will not be deployed in the Black Sea."
One February, 2010 cable from the U.S. embassy in Paris details a meeting between U.S. Defense Secretary Robert Gates and then French Defense Minister Herve Morin. According to this diplomatic dispatch, the U.S. Defense Secretary expressed concerns about the French sale of Mistral to Russia
"He [Gates] told Morin that because of Sarkozy's involvement in brokering a ceasefire in Georgia, which Russia was not fully honoring, the sale would send the wrong message to Russia and to our Allies in Central and East Europe," the cable reads.
According to the cable, Morin, however, downplayed the matter suggesting that sale of the ship "would not make any difference with respect to Russian capabilities, as Russia's naval production ability was severely degraded." Gates responded, according to the cable, that the U.S. concerns were not about Russia's military capacity, "but about messaging."
In an interview with the French media in June, 2010 Russia's Prime Minister, Vladimir Putin, said that Russia had no need to use Mistral against Georgia.
"Modern offensive systems make it possible to carry out any military operation deep into the entire territory of Georgia from the Russian territory and no Mistral is needed for that," he said.