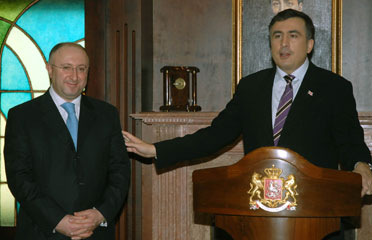 Gela Bezhuashvili and President Saakashvili, February 1, 2008, when Bezhuashvili was appointed as chief of intelligence service. Photo: InterPressNews
Gela Bezhuashvili, the head of Georgian intelligence service, will continue his tenure after return from the United States where he is "to complete course of study," the Georgian President's spokesperson, Manana Manjgaladze, said on February 1.
"We confirm that he is really in the United States to increase his qualification… it will last for several weeks, maximum month and a half; he departed to the United States to complete course of study and after that Mr. Bezhuashvili will return and continue his tenure," Manjgaladze said.
There were unconfirmed reports recently in the Georgian media that Bezhuashvili had resigned.
Bezhuashvili, 43, became head of intelligence service in early 2008 after serving as Foreign Minister since late 2005. He served as Defense Minister for a few months in 2004, before being appointed as secretary of the National Security Council in June 2004.
Bezhuashvili, who graduated from the Ukrainian Institute of International Relations and International Law in 1991 and obtained a Master of Law degree in international law at the Southern Methodist University School of Law, Dallas in 1997, served in the Georgian Foreign Ministry in 1991-2000. He was also Georgia's Ambassador to Kazakhstan. In 2000-2003 he served as Deputy Defense Minister under ex-President Eduard Shevardnadze.
Bezhuashvili's brother, lawmaker Davit Bezhuashvili, is a founder of the Georgian Industrial Group (GIG) – a conglomerate with diversified business interests ranging from coal mining in Tkibuli and energy to travel. GIG is a shareholding of Rustavi 2 and Mze television stations.
After a deadly blast at Tkibuli coal mine, President Saakashvili accused owners of the mine of neglecting safety norms and of covering up real reasons behind similar incidents last year. The statement was followed by arrest of two mid-level managers of the mine, who, according to the investigation, were in charge of safety norms.
Bezhuashvili's appointment as the head of intelligence service in February, 2008 came as a surprise at the time, because it was officially announced before the appointment that Bezhuashvili had an intention to quit the public life in favor of the private sector.