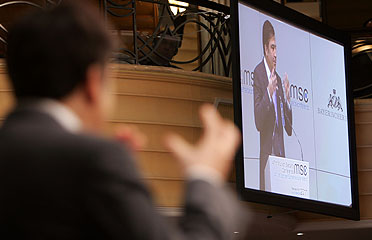 Saakashvili speaking at the Munich Security Conference, February 6, 2011. Photo: Kai Mörk
President Saakashvili told the Munich Security Conference on Sunday that his call for a dialogue was responded by Moscow with further military build-up in Georgia's "regions illegally occupied by the Russian troops."
In his speech at the conference he reiterated Georgia's non-use of force pledge and called on the EU and the United States "to bring those who believe in military supremacy back to the table of negotiations."
"I came here today to repeat this simple message: Peace is the only solution, and a comprehensive political dialogue is the only way to achieve it," Saakashvili said.

"But until now, how did the Russian leaders respond to our call? Not only they refused to reciprocate the non-use of force, they responded by accelerating the military build-up in the occupied regions, announcing lastly the deployment of offensive missiles 50 miles from our capital."
He warned that ignoring the ongoing military build-ups "fueled by well-known foreign hands can lead to future disasters."
"European and American involvement is essential," Saakashvili said. "With your help, I am confident that we can transform this region marked by old-fashioned logics of domination into an area of cooperation and progress."
Speaking at the same conference in Munich a day earlier, Russia's Foreign Minister Sergey Lavrov said that resolving "chronic conflicts" was a common interest. "To this end, we will need to discard double standards and be objective about each situation taking into full account positions of all parties," Lavrov said.
On the sideline of the Munich Security Conference, President Saakashvili met with German Chancellor Angela Merkel on February 5, as well as with Australian Foreign Minister Kevin Rudd.
In Munich Saakashvili also met with Swiss President Micheline Calmy-Rey. Switzerland represents Russia's diplomatic interests in Georgia and Georgia's interests in Russia after the two countries cut diplomatic ties following the August, 2008 war.
The Georgian President's administration said that "one of the key issues" discussed during the meeting with Micheline Calmy-Rey was intensification of Switzerland's role as a mediator between Georgia and Russia.