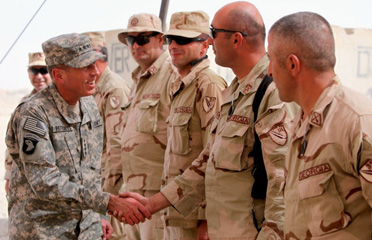 On this ISAF photo, Gen. David H. Petraeus, commander of US and NATO forces in Afghanistan, is seen meeting with soldiers from Georgia's 31st Battalion at Camp Delaram II in the province of Helmand on September 6, 2010.
President Saakashvili met with General David Petraeus, the commander of U.S. and NATO forces in Afghanistan, in Washington on March 15.
In remarks after the meeting Gen. Petraeus praised Georgia and its soldiers for contribution to the NATO-led force in Afghanistan.
Georgian ambassador to the U.S. Temur Yakobashvili, who also attended the meeting, said that the Georgian President and the U.S. General discussed not only Georgia's contribution to the Afghan mission, but also "developments in the Middle East and global issues, which affect the both countries."
With the latest death reported on March 14, total number of Georgian soldiers killed in Afghanistan, since joining the NATO-led operation in November, 2009, increased to seven.
"Each such loss is my personal tragedy," President Saakashvili said in remarks after meeting with Gen. Petraeus. "But we should understand that our professional soldiers are on a very, very important mission; it's a matter of Georgia's dignity, prestige and of future as well."