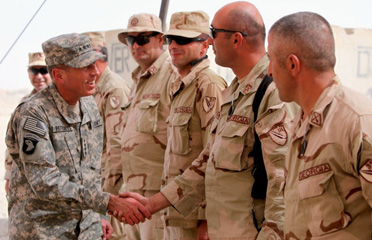 On this ISAF photo, Gen. David H. Petraeus, commander of US and NATO forces in Afghanistan, is seen meeting with soldiers from Georgia's 31st Battalion at Camp Delaram II in the province of Helmand on September 6, 2010. 31st Battalion was replaced in Helmand by 32nd battalion of the 3rd infantry brigade in November, 2010.
General David Petraeus, the commander of U.S. and NATO forces in Afghanistan, said the Georgian troops in Afghanistan "have been integral to the growing success of our efforts to improve security and stability" in Helmand and Nimruz provinces.
In a letter sent to the Georgian Minister of Defense, Bacho Akhalaia, the U.S. General praised the Georgian troops for "effective interactions with the Afghan people", which, he said, had led to increased confidence in both NATO-led forces and Afghan government.
The text of letter was released by the Georgian Ministry of Defense on March 30.
Gen. Petraeus says that the Georgian troops efforts in southern Musa Qala (or Musa Qal'eh), where they patrol on foot, contributed to "better relationships with the Afghan people."
"Your troopers are truly courageous in conducting these foot patrols, which place them at greater risk of insurgent attacks," the U.S. General writes.
Musa Qala in north of the Helmand province has seen some of the fiercest fighting in previous years and is regarded to be one of the crossroads in the opium trade and is seen as key to controlling other crucial districts in Helmand.
"Much of the credit for improved security in southern Musa Qal'eh is attributable to the outstanding leadership of your battalion commanders," General Petraeus said, adding that the Georgian commanders were planning "sound operations to reduce the insurgents' influence on the people."
With the latest death reported on March 14, total number of Georgian soldiers killed in Afghanistan, since joining the NATO-led operation in November, 2009, increased to seven.
Georgia first deployed a company-sized unit in Afghanistan in November, 2009 and increased its contribution to the NATO-led forces to about 950 soldiers in April, 2010 after sending a battalion in Helmand. In February the Georgian Parliament approved government's proposal to send to Afghanistan a team artillery instructors to train the Afghan military.