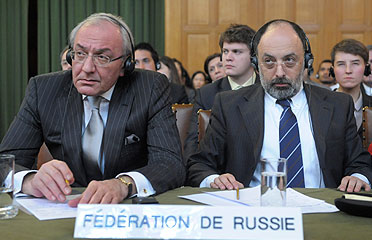 Russia's Ambassador to the Netherlands, Roman Kolodkin (right) and Kirill Gevorgian (left), a director of legal department at the Russian Foreign Ministry, at the public hearings of the International Court of Justice on April 1. Photo: Courtesy ICJ/Fotoburo Dijkstra BV/Peter Brom
The Russian Foreign Ministry welcomed a ruling by the Hague-based International Court of Justice (ICJ) that it had no jurisdiction to hear on merits case filed by Georgia against Russia on August 12, 2008.
"The Russian side is satisfied with the decision," the Russian Foreign Ministry said in a brief statement. "The decision has been made with convincing margin of 10 votes to six."
Kirill Gevorgian, a director of department for legal affairs at the Russian Foreign Ministry, said in The Hague after the decision was announced: "It is a very, very good decision. It is exactly what we were trying to prove to the court."
Georgia said it would try to settle "procedural" and "technical" issues, which have been cited by ICJ behind its decision, to pursue legal actions against Russia for violation of its obligations under the 1965 International Convention on the Elimination of All Forms of Racial Discrimination (CERD) during three distinct phases of its interventions in South Ossetia and Abkhazia in the period from 1990 to August 2008.