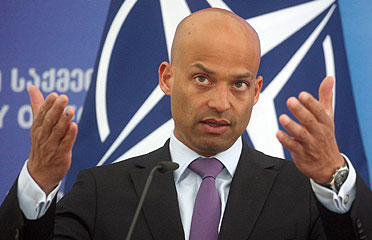 James Appathurai speaking at a news conference in Tbilisi on April 7. Photo: InterPressNews
Reform process in Georgia and NATO-Georgia relations "are going in right direction" and the both sides now "need to reinforce the success," James Appathurai, NATO Secretary General's Special Representative for the Caucasus and Central Asia, said on April 7.
Speaking at a joint news conference with Georgian Foreign Minister Grigol Vashadze in Tbilisi, Appathurai said that Georgia "is working very hard" to meet the membership standards and there had been "steady, clear progress"; he, however, added "there is more to do."
He said NATO's commitments to Georgia, undertaken under the 2008 Bucharest summit that it would join the Alliance "have not only not changed", but they were further reaffirmed at the NATO Lisbon summit in November.
"NATO will not compromise when it comes to territorial integrity of this country; there will be no recognition of Abkhazia and South Ossetia as independent by the NATO allies. These are very firm principles on which our relationship is based," Appathurai said.
He said that the NATO-Georgia Commission on foreign ministerial level, which will be held on a sideline of NATO foreign ministers' meeting in Berlin on April 14-15, would discuss not only Georgia-NATO relations, but "wider issues" as well.
"This is a sign of development and maturity of relationship between NATO and Georgia; it's about more than just us, it's about what we do together," he said and added that the Alliance was grateful for Georgia's important contribution to Afghan operation.
Georgia has lost 7 soldiers in Afghanistan since joining ASAF in November, 2009 and up to 40 servicemen were injured.
Georgian Foreign Minister, Grigol Vashadze, said at the same news conference that level of NATO and Georgia cooperation "is now much better, than it was in 2009 or in 2010."
Georgia's reform targets in respect of meeting NATO standards are defined in Annual National Programme (ANP) – a mechanism of cooperation introduced in December 2008. The reform targets reflected in ANP are drawn by the Georgian government and reviewed annually by NATO. The recent plan, which is a classified document, was approved by the Georgian government and presented to the Alliance in February.
"It is not NATO that decides what Georgia should do and then imposes it; Georgia chooses its priorities… and we offer our support," Appathurai said.
He said on the political front upcoming elections and talks on electoral code were important.
"And when it comes to the defense reform," Appathurai continued, "I know that the budgetary situation for the defense [ministry] here is not easy; I can tell you that's the same in all of our countries."
In this context he stressed the importance of getting more efficiency out of limited resources and finding "niche capability".
"We are firmly committed to supporting Georgia's efforts to improve its military education, its defense structures, the interoperability," he said and added that these two – political and defense reforms – were "principle areas" in which the Alliance continued supporting Georgia to help meet NATO standards.
'ANP de facto MAP'
Speaking at NATO Parliamentary Assembly's Rose-Roth conference in Tbilisi on March 24, Linas Linkevičius, Lithuania's Permanent Representative to the North Atlantic Council – NATO's main decision-making body, said that with its substance Annual National Programme was in fact the same as Membership Action Plan (MAP) which Georgia was denied to be granted in April, 2008 Bucharest summit.
"Those who know the substance they all understand that Annual National Programme, currently implemented by Georgia, is de facto the same Membership Action Plan - with the same spectrum of issues, with the same feedback mechanism," Linkevičius said.
He said decisions about membership "are always political not technical" and meanwhile Georgia "needs to keep moving, conducting reforms" and there should be no "fatigue" with reforms, as well as it should make maximum use of existing mechanisms of cooperation with the NATO.
Ambassador Linkevičius also said that Georgia's ANP, among defense reforms, also included "democratic package" involving electoral code, judiciary reform and media ownership issues.
"Georgia is in a good position to reach progress in all of these areas," Linkevičius said.

Speaking after meeting with NATO Secretary General's Special Representative in Tbilisi on April 7, Georgian State Minister for Euro-Atlantic Integration Issues Giorgi Baramidze said, that there were all the mechanisms in place required for integration into the Alliance.
"In fact we have more than we were expecting from the NATO [2008] Bucharest summit – we have the Annual National Programme and NATO-Georgia Commission, which informally is referred in NATO as 'MAP plus' mechanism. We do not expect those mechanisms to be changed, because there is no need for that; Georgia has everything required for continuation of democratic and defense reforms in order to become NATO member," Baramidze said.
The NATO 2010 Lisbon summit reiterates the 2008 Bucharest summit decision, as well as in addition reaffirms "subsequent decisions", which among others also includes the one adopted by the 2009 Strasbourg/Kehl summit in which NATO leaders said that Georgia's Annual National Programme, setting reforms targets, will help Georgia in advancing its reforms "without prejudice to further decisions which must be taken about MAP".