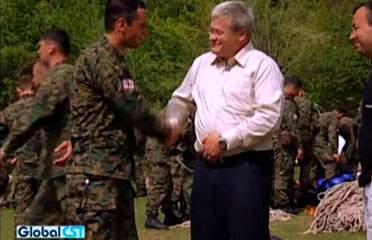 A screenshot from
Global CST's promotional video
on which company's founder Israel Ziv is seen shaking hands with a Georgian soldier. Global CST was involved in training of Georgian troops few years ago.
A founder and owner of Israeli security consultancy firm, Global CST, Israel Ziv, is in Sokhumi meeting with the breakaway region's leadership on April 14, Abkhaz and Russian news agencies are reporting.
Abkhaz news agency, Apsnipress, reported that "the seven-member Israeli delegation", led by Ziv, also includes Meir Klifi, CEO of Global CST, who was Israeli PM Binyamin Netanyahu's military aide until 2009.
Israel Ziv, retired major general and a former head of operations at the Israeli General Staff, met with the breakaway region's prime minister Sergey Shamba.
"Issues related with cooperation in the fields of security, tourism and agriculture were discussed," Apsnipress news agency reported.
Beyond security and defense consultancy and trainings the Global CST also has a civil division offering strategies in various fields ranging from agriculture to communication and infrastructure.
Global CST was involved in training of the Georgian troops, but the company, along with another Israeli security firm, Defense Shield, reportedly wrapped up their operations in Georgia shortly before the August, 2008 war.
In the company profile ran by the Jerusalem Post late last year, the Global CST was described as "a fix-it firm for ailing nations" and "one of the leading consulting companies, not for militaries or companies but for countries."
There has not been yet any reaction from Tbilisi to this visit by Global CST executives in Sokhumi. Asked by journalists about the visit, Eka Tkeshelashvili, the state minister for reintegration, said she could not comment as the report about the visit required to be verified.
Israel Ziv told journalists after meeting with the breakaway region's prime minister, that his visit had nothing to do with politics and it was of purely economic nature, according to Apsnipress.