Georgian Parliament unanimously endorsed on April 19 government's proposal to annul a five-year agreement with Russia setting out procedures for transit of Russian military personnel and cargo to Armenia via Georgia.
The agreement on transit of military personnel and cargo, giving Russia access to its 102nd military base in Gyumri, Armenia through land and air via Georgia, was signed in March, 2006 in parallel with a separate agreement based on which Russia pulled out its military bases from Batumi and Akhalkalaki. The both of the agreements were ratified by the Georgian Parliament on April 13, 2006.
"After Russia's aggression against Georgia, naturally, it was deemed appropriate by the competent agencies to annul the agreement following expiration of its five-year term," Nino Kalandadze, the Georgian deputy foreign minister, told lawmakers on April 19.
She said that last time when Georgia issued permission to Russia's request for military transit based on the agreement was in July, 2008. After the August, 2008 war Georgia received one such request from Russia, but Tbilisi turned it down, Kalandadze said.
"Since then the Russian Federation has not applied for transit permission," she added.
"I think annulment of this agreement does not really require additional explanations, because this agreement is in contravention of our national interests," said Irakli Kavtaradze, a lawmaker from the ruling party, who is a deputy chairman of the parliamentary committee for foreign affairs.
A day before the parliamentary vote on the issue, Georgian Defense Minister, Bacho Akhalaia, paid his first official visit to Armenia on April 18.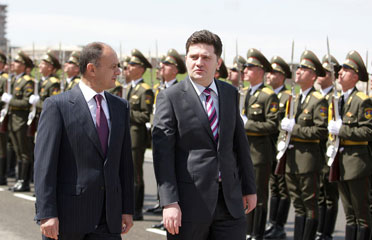 Armenian Defense Minister Seyran Ohanyan (left) and his Georgian counterpart Bacho Akhalaia (right) in Yerevan, April 18. Photo: Armenian MoD.
In Yerevan he met with his Armenian counterpart Seyran Ohanyan and President Serzh Sargsyan.
Speaking at a joint news conference with his Armenian counterpart, the Georgian Defense Minister said that relations between the two countries were of special importance and there was nothing that could derail those close ties.
According to the Georgian Defense Ministry the main topics of discussions during the visit were exchange of experience in defense sphere and cooperation in military education. According to MoD, the Georgian side offered Armenian counterparts to train their soldiers at the Georgian army mountain training site in Sachkhere.