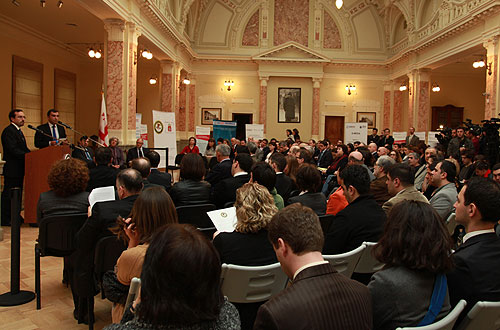 U.S. Ambassador, John Bass, presents to an audience at the National Parliamentary Library of Georgia, U.S.-funded programs designed to support democracy and good governance, April 20. Photo: Guram Muradov/Civil.ge
Discussions over electoral system reform have to produce an outcome far ahead of the next year's parliamentary elections so that stakeholders have enough time to understand what the rules are, John Bass, the U.S. ambassador to Georgia, said on April 20.

Talks between the opposition and the ruling party on electoral system reform are currently halted and while the both sides claim that they desire to resume negotiations, the prospects of talks remain unclear. The most recent major development came on April 5, when the group of eight opposition parties presented their new proposals on the electoral system on which the ruling party has yet to give its response.
Ambassador, John Bass, told journalists on April 20, that U.S. Secretary of State Hillary Clinton's remarks made at the NATO-Georgia Commission on April 15 in Berlin about the importance of democratic transition of power in Georgia through the parliamentary elections in 2012 and presidential elections in 2013 "reflect our view that the deeper development of Georgia's democracy requires increased confidence by the people" in the electoral system.
"Important right now is that there are number of people in government and outside government, number of actors – the government, set of parties – that are committed to working through a new set of rules for next year's election. I think that it's important that those discussions produce an outcome far enough in advance of an actual election [so] that everybody understands the rules, everybody understands what the competition is for in terms of composition of Parliament and is able to compete effectively and fairly," Bass said.
Ambassador Bass was speaking after a presentation during which he outlined over USD 90 million of U.S.-funded programs for next four years, designed to support democracy and good governance in Georgia.
"Fundamentally democratic transformation in Georgia is essential to Georgia's long-term security," he said.
Secretary of Georgia's National Security Council, Giga Bokeria, who was present at the presentation, said that despite many differences within the diverse Georgian society, there was a broad consensus on "unwavering, fundamental choice in favor of independent, free, democratic state in the Euro-Atlantic space."
"On this road we encountered many obstacles and we still face some. Part of those obstacles was due to our mistakes and part of them was inherited and some of those obstacles are those which some people try to impose on us… Assistance provided by our friends is invaluable in the view of those obstacles, mistakes or lack of experience we have," Bokeria said.
The presentation of U.S.-funded democracy and governance programs was held in lead up to a meeting of a bilateral U.S.-Georgian working group on democracy, which will be held in Tbilisi on April 27. The meeting is part of a regular dialogue in frames of U.S.-Georgia Strategic Partnership Charter.