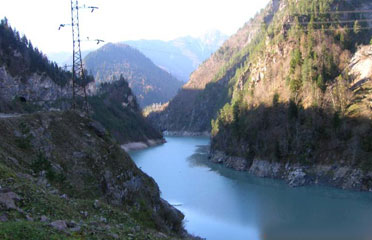 Upper Enguri reservoir near proposed Khudoni hydropower dam location. Photo from the World Bank
website
.
Pre-construction activities for the major, 650 megawatt hydropower plant, Khudoni, in mountainous region of Svaneti, will start this year with actual construction of the plant scheduled to start from 2012, Nika Gilauri, the Georgian PM, said on April 21.
Speaking at a government session PM Gilauri said that a contract will be signed with, as he put it, "an Indian company" in next few days on construction of the Khudoni hydro power plant.
PM Gilauri gave name of the company as "Continental Energy"; although according to a written agenda of the April 21 government session, the cabinet members discussed the governmental decree on signing a contract with Trans Electrica Ltd.
Trans Electrica Ltd., according to its website, is a "company promoted by prominent NRIs [non-resident Indians] and local Georgian partners," which has been formed for "harnessing the hydro power resources available in Georgia" with focus on Khudoni Hydropower Project.
Construction of the Khudoni dam on the Enguri river in western Georgia started back in 1986, but it was halted in late 80s after the protests over environmental concern.
Construction of about 200-meter dam and a reservoir for the Khudoni HPP will cause flooding of Khaishi village, which will require resettlement of local residents.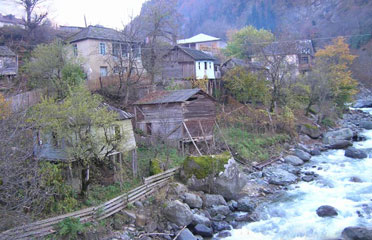 The village of Khaishi, which will be flooded as a result of construction of the dam. Photo from the World Bank
website
PM Nika Gilauri hailed the project, saying that it would lead to investment of about USD 1 billion, "making it one of the largest investment projects in Georgia".
Energy Minister, Alexandre Khetaguri, said that the company would undertake committeemen to complete the construction within six years.
The Georgian authorities say the country's hydro power generation has a potential to attract USD 5 billion in next 7-8 years. President Saakashvili said in his annual state of the nation address in the Parliament on February 11 that Georgia would have 17 new hydro power plants by 2015.
According to the Georgian government-commissioned and the World Bank-supported study, looking into the country's power sector development, construction of Namakhvani HPP, Paravani HPP and Khudoni HPP are the most attractive scenarios.

Environmentalists, however, are skeptical about the Khudoni HPP project. Manana Kochladze of the environmental group, Green Alternative, says emergence of new water surfaces as a result of construction of dam may endanger climate in Svaneti, the region which the government tries to turn into one of the major tourist destinations in Georgia.
According to the World Bank impacts of a dam construction on microclimate will be of "very localized nature."