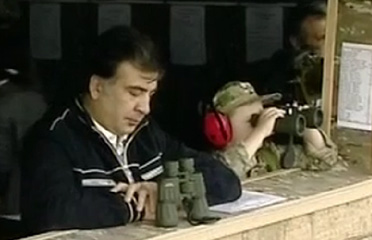 TV grab from Georgian public broadcaster shows President Saakashvili and his five-year old son, Nikoloz, watching military drills in Vaziani, April 30.
Despite "enemy's attempts to demoralize" the Georgian army, "we have managed not only to maintain combat spirit, but also to accelerate the pace of modernization," President Saakashvili said after attending military exercises in Vaziani, outside Tbilisi on April 30.
The Georgian Ministry of Defense said up to 680 soldiers, 14 battle tanks; 15 armored personnel carriers; six BM-21 Grad multiple rocket launchers; 18 DANA self-propelled howitzers; 10 SU-25 (Frogfoot) ground attack aircraft; four Mi-24 (Hind) helicopter gunships; six Mi-8 and three UH-1H helicopters; one Hermes unmanned aerial vehicle were involved in the exercises.
MoD said the goal of the exercises, which coincided with the Day of the Georgian Armed Forces, was to enhance interoperability and coordination between various military units during "the defensive battles." Defense Minister, Bacho Akhalaia, said that the drills in Vaziani were "routine exercises".
President Saakashvili, who watched the drills together with his five-year old son dressed in a military uniform, said that although during exercises enemy "is hypothetical", there was "no illusion" about who Georgia's real enemy was.
"We know very well who has intruded into Georgia, who is occupying our territories and who has further aggressive plans in respect of Georgia," Saakashvili said.
He said that "very serious reforms" had been carried out in the armed forces.
"Of course when the country faces problems and when the country is attacked, each of its citizen becomes a soldier," he told soldiers. "But you are in a forefront of our defense and major guarantor of our future."
"Because of that we will continue providing any kind of assistance to the armed forces, its modernization with maximum pace and we will achieve a situation, wherein the Georgian armed forces will be very well prepared, equipped to accomplish all those tasks – including those which are almost impossible to accomplish – which will be put upon us by the history," Saakashvili said.