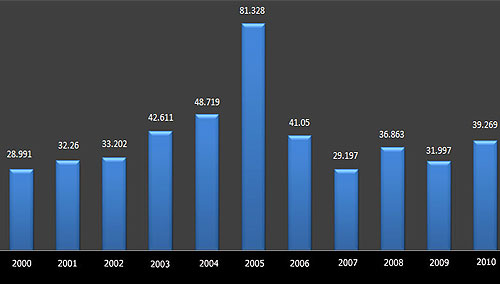 Value of exported Georgian wine by years; all figures in millions of US dollars. Source: the state statistics agency Geostat. Russia banned import of Georgian wine in late March, 2006.
President Saakashvili thanked again Russia for banning import of the Georgian wine, saying that the embargo promoted Georgian wine-maker to improve the quality, thus paving the way to international markets.
"The quality of Georgian wine has significantly improved in recent years," Saakashvili said while visiting a local family in Batumi, Adjara Autonomous Republic, for tasting of homemade wine.
"Thanks a lot to Mother Russia for this embargo. This embargo helped us a lot in terms of [increasing] wine quality and now we are in a situation, wherein if [Russia] allows [Georgian wine] back [to its market] - that would be good, but if it won't - that won't [change] anything either. The quality [of the Georgian wine] has increased and now it has a market all over the world," Saakashvili said.
He said that Georgia might not even have enough wine to export if Georgia meets its target of having five million tourists annually.
Georgian Agriculture Minister, Bakur Kvezereli, told Civil.ge at the New Wine Festival in Tbilisi on May 14: "I do not see any special importance in the Russian market."