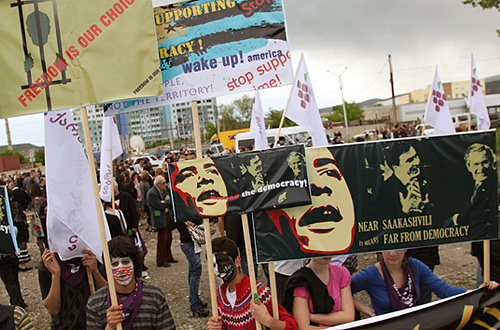 At the rally outside the U.S. embassy on May 16 the activists of the Georgian Party held banners reading "Near Saakashvili, It Means Far From Democracy"; "Occupied Media - Result of Your Support"; "Wake Up America"; "Stop Supporting Autocracy". Photo: Guram Muradov/Civil.ge
A group of opposition Georgian Party activists and their leaders gathered outside the U.S. embassy in Tbilisi on May 16 to express protest against, what they call, "U.S. administration's support to the Saakashvili's regime."
"We need a support to democracy and not a support to Saakashvili's regime. We need support to the people and not to the regime," Sozar Subari, the chairman of the Georgian Party, told the rally. "We urge the United States to stop assisting autocracy and stand beside people to help strengthening of the democracy in Georgia. America is the country, which can do it and which has real levers of pressure on the authorities. If such pressure is exerted, the situation can change in a day."

"We are telling the U.S. administration and taxpayers to stop such relations with Saakashvili, which represent a holdover momentum from the Bush administration," Erosi Kitsmarishvili, political secretary of the Georgian Party told the rally.
Few hours before the rally the Georgian Party released an open letter to President Obama, which was handed over to the U.S. embassy after the rally.
In contrast to strongly-worded remarks by the Georgian Party's one of the leaders Irakli Okruashvili, the written letter says that the party respects the United States and acknowledges importance of Georgia's partnership with the U.S. It says that with President Saakashvili's government permanently abusing human rights, "it becomes difficult for more and more people to understand why the U.S. supports Mikheil Saakashvili, who misuses this support against his own people."
The letter also says that only democratic Georgia can be a real partner to the United States and expresses "regret" that President Saakashvili will not change his undemocratic style of governance.
"The Georgian Party calls [on the U.S.] to stop supporting Saakashvili and to support Georgia. This call is a result of our deep respect towards the United States and of acknowledgement that the U.S. is Georgia's important partner," the letter reads.