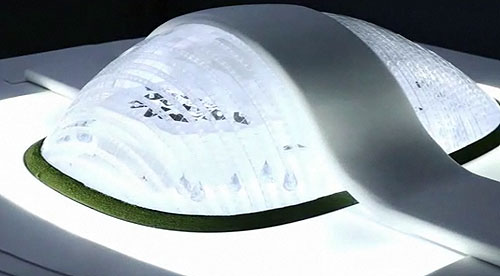 A model of the new Parliament building, designed by CMD Ingenieros, which is currently under construction in Kutaisi, about 220 kilometers west from capital Tbilisi.
Parliament launched on May 17 formal procedures for a constitutional amendment to fully relocate the next Parliament from capital Tbilisi to the country's second largest city of Kutaisi.
Parliament voted to establish a commission that will lead month-long public discussions on the planned constitutional amendments and after that the draft will be put for voting in the legislative body.
In September 2009 the Parliament passed constitutional amendment envisaging splitting of working venue of next Parliament to be elected in 2012 between Tbilisi and Kutaisi, located over 200 kilometers away from the capital. According to those amendments, the parliamentary sittings should be held in Kutaisi, while other activities, including parliamentary committee hearings should be held in the current parliamentary chamber in Tbilisi.
But according to the newly proposed constitutional amendment Kutaisi, will become the only place where the new legislative body, elected in 2012, will be located.
Construction of the new Parliament building is currently underway in Kutaisi.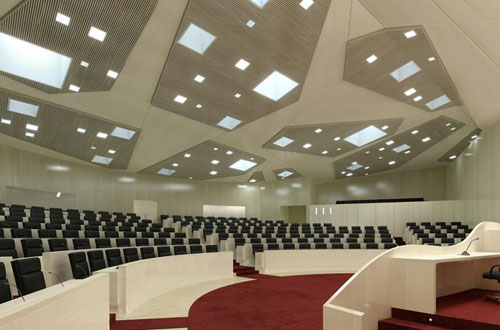 A model of new chamber of the Parliament inside the planned glass dome building in Kutaisi.
40-meter high glass dome building, designers say, will symbolize transparency and its 200-meter long thin shell concrete structure, covering the glass-dome like a stripe, will be a symbol of strength. The new Parliament building, designed by CMD Ingenieros, will have 4,200 square meters of common space with 217 offices and 11 conference rooms.
The commission endorsed by the Parliament on May 17, which should lead formal public discussions about the planned constitutional amendment include MPs from the ruling party: Pavle Kublashvili, Akaki Minashvili, Kakha Anjaparidze, Vakhtang Balavadze, Chiora Taktakishvili, Khatuna Gogorishvili, Petre Tsiskarishvili; lawmakers from the parliamentary minority: Giorgi Targamadze, Rati Maisuradze, Levan Vepkhvadze, Giorgi Akhvlediani, Nika Laliashvili, Gia Tortladze, Paata Davitaia as well as MP Jondi Bagaturia. Other members include the government's parliamentary secretary Gia Khuroshvili; Deputy Justice Minister Dimitri Dzagnidze and representatives from academic circles. Two opposition lawmakers Giorgi Tsagareishvili and Dimitri Lortkipanidze declined to join the commission.
The opposition lawmakers were critical of idea of relocation of the Parliament from the very beginning back in 2009 saying that the move was related to unjustified expanses.