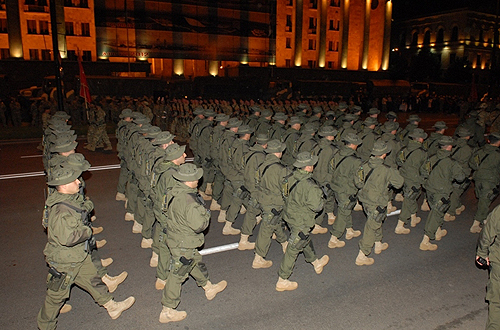 Georgian troops march on the Rustaveli Avenue in rehearsal of the military parade planned for May 26 to mark the Independence Day. Photo: Georgian MoD.
Tbilisi's main thoroughfare, Rustaveli Avenue, and nearby streets were closed down for traffic late on Tuesday as the Georgian troops launched rehearsal of a military parade to mark the Independence Day on May 26.
In a statement, released just couple of hours before the traffic was blocked, the Georgian Ministry of Defense said that movement on Rustaveli Avenue, Freedom Square and in some of the adjacent streets "will be limited for vehicles and pedestrians" from 10pm on May 17 to 8am on May 18. It also said that air forces would also be involved in the rehearsal.
Earlier on May 17 a small group of attorneys were intending to launch a five-day hunger strike outside the Parliament on Rustaveli Avenue - a venue, where the military parade rehearsal started later on Tuesday - to demand fair judiciary system. But their plans were disrupted by the police, which did not allow them to camp outside the legislative body. Police came at the scene after the protesters laid mattresses outside the Parliament. The police seized and took away mattresses; there was no scuffle, although police briefly pushed protesters away from the scene.