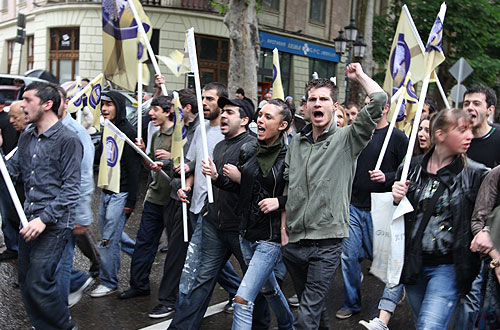 People's Assembly activists march on Rustaveli Avenue towards the Freedom Square on May 21. Photo: Guram Muradov/Civil.ge
Activists of opposition People's Assembly started gathering under the rainy skies in three separate locations in Tbilisi on Friday before marching towards the Freedom Square in downtown of the capital city.
The People's Assembly, backed by ex-parliamentary speaker Nino Burjanadze, said it would launch street protest rallies from May 21 to force President Saakashvili to resign.
Nino Burjanadze said at a news conference on May 21, called on the police not to follow "illegal orders" and not to confront the people. She also said that activists from the People's Assembly face "enormous pressure" from the authorities and police in the regions to prevent them from arrival in Tbilisi.
Police is not visible on Freedom Square, about half of which is filled by protesters as of now. The traffic on the square was closed as protesters started to arrive there.